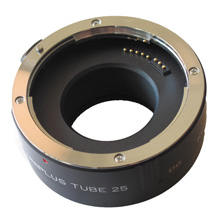 Every lens has a minimum focusing distance: the closest point where the lens can get a sharp focus. Generally, the longer the focal length of the lens, the greater the minimum focusing distance.
Most of the time, this distance isn't a problem because with longer lenses you'll generally be photographing a distant subject.
But, those longer telephoto lenses are also great for close-up photography, because they help you isolate your subject against a specific part of the background. In these cases, this minimum focus distance often becomes a problem because many lenses won't let you get close enough to fill the frame with a small subject (such as a wildflower or insect).
So, how do you make your lens focus closer?
Use an extension tube
An extension tube (pictured above) is a pretty basic piece of equipment: it's just a hollow tube that extends the distance between the lens and the camera's sensor. The more you increase this distance, the closer the lens can focus.
Extension tubes come in a variety of different sizes, from 12mm to 50mm, but the one around 25mm is usually the most useful. For example, if you put the 25mm extension tube on a Canon 70-200 F/4L lens, you can change the minimum focusing distance from 4.9 ft to about 4 ft (which can make a big difference in close-up photography).
Although the 25mm tube is probably the one you'll use the most, there's also a benefit to owning a set of different tube sizes. One of the great things about extension tubes is that you can stack them together to make your lens focus even closer. Ever since getting a set of these tubes, I often stack a 36mm with a 20mm to make my lenses focus extremely close. This helps me fill the frame with small subjects like these wildflowers: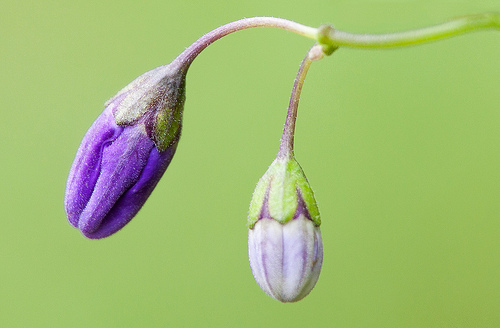 If you ever use an extension tube with a teleconverter, remember to attach the teleconverter to your camera first (so the extension tube should be between the teleconverter and lens).
Save $20 on a set of three extension tubes!
The nice folks over at Adorama (one of my two favorite online camera retailers) have agreed to give us $20 off a set of Kenko extension tubes for Canon or Nikon lenses. This is the same set of tubes that I use and recommend, so if you're interested in trying them out, now's a great time to get them 🙂
These deals expire at midnight EST on March 13, 2013.
Kenko also used to make a 25mm tube that sold for around $80, but it doesn't seem to be available anymore at B&H or Adorama.
---

About the Author: Steve Berardi is a naturalist, photographer, software engineer, and founder of PhotoNaturalist. You can usually find him hiking in the beautiful mountains and deserts of southern California.