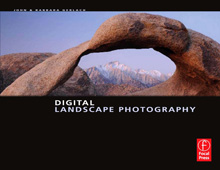 I first discovered John and Barbara Gerlach about a year ago through Nature Photographer Magazine. I remember looking at their photos for the first time and just saying, "wow!" They seem to have mastered every type of nature photography: everything from wildlife to landscapes.
But, they're not just amazing photographers, they're also pretty awesome writers. I always look forward to their clear and useful articles in Nature Photographer Magazine. I've already shared a lot of what I've learned from them here on PhotoNaturalist, like how the Live Preview on your camera can help you take better photos.
So, when I heard about their new book, Digital Landscape Photography, I immediately ordered it on Amazon!
Well, I've had a chance to read it, and look through it again pretty thoroughly, so I thought I'd share my reaction to the book.
What you'll learn in this book
The book is about 200 pages long in 8.5×11 landscape format, so it covers a lot of ground. Here's a list of the chapters and a little about what you'll learn in each one:
Landscapes are Everywhere. This is just a short introduction type of chapter, so not much is covered here.
Cameras and Accessories. Things to consider when you're getting a camera, what megapixels mean, advantages/disadvantages of megapixels, what sensor size means, and other things to look for when getting a camera.
Choosing and Using Lenses. Pros and cons of professional lenses, what lens speed will do for you, why zoom lenses are great for landscape photography, what filters you should use, and a detailed discussion of various focal lengths.
Mastering Exposure. How to use the histogram (including the RGB one!), introduction to the f-number series and why it's important to know for exposure, great explanation of ISO values, overview of metering modes, how to avoid autoexposure problems, and more!
Techniques for Sharp Images. This chapter was really awesome, as it introduced me to a lot of new ways to get sharp images (I won't spoil the book and reveal them here, though!). The Gerlachs explain why you need a good tripod, why L-plates are great for landscape photos, how to deal with various types of terrain and conditions (i.e. wind, snow, soft ground, etc), and they even explain how to clean your sensor.
Light on the Landscape. Overview of the different types of light and how filters affect it (especially a polarizer), overview of white balance settings, how to control high contrast scenes, and the importance of light direction (front vs side vs back).
Composing Pleasing Images. Tips for composing images by spotting the most important aspects, horizontal vs vertical orientation, perspective, background choice, the rule of thirds, and how to use curves in your images.
Special Subjects. How to photograph special subjects like waterfalls, fall color, and snowy landscapes.
High Dynamic Range Images. I know HDR images are pretty controversial in nature photography, but I think the Gerlachs use HDR wonderfully, and as it was intended: to expand the dynamic range of your camera (and not produce fake looking scenes!). This chapter explains their technique for capturing HDR images.
Panoramas. Probably everything you need to know about shooting some great panoramic photos!
Why this book is awesome
Not only does this book cover a lot of topics in great detail, but the Gerlachs have a wonderful way of explaining things in a clear and direct manner. They make the most complex things seem simple. The book also contains a lot of their wonderful photos which help illustrate some of their main points.
You'll enjoy this book if…
I think this book is perfect for beginning to intermediate landscape photographers. If you've read basic books like Scott Kelby's wonderful series and you're looking for more, definitely check out this book!
Even if you're past the basics though, I think there's a lot you can learn from this book. The Gerlachs go over a lot of little techniques that I haven't seen anywhere else, so I think the book has a little something for everyone 🙂
Help support us and buy the book through our affiliate link!
If you'd like to buy the book, we'd greatly appreciate it if you used the Amazon link below. We get a small commission for each sale, which helps pay for the monthly server space for this site (and maybe a cup of coffee for me too, heheh). Thanks!
Buy Digital Landscape Photography on Amazon!
If you enjoyed this article, and would like to read more, please signup for free updates by email or RSS.
---

About the Author: Steve Berardi is a naturalist, photographer, computer scientist, and founder of PhotoNaturalist. You can usually find him hiking in the San Gabriel Mountains or the Mojave Desert, both located in the beautiful state of California.