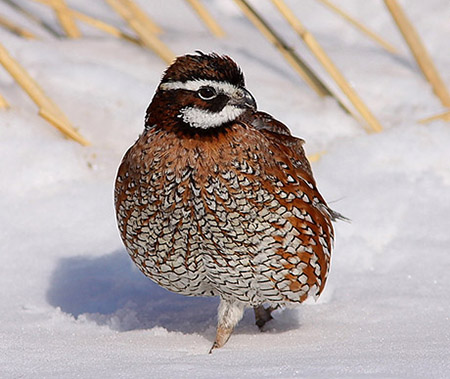 Photography is all about light and the use of it. Photographing birds in winter brings a special kind of lighting not available during the rest of the year–reflective snow cover. Fresh fallen snow and bright sunlight offer both spectacular results as well as tricky exposure decisions.
Bird photography presents many challenges with the various plumages that are exhibited. Some birds are very pale underneath and some are very dark, creating exposure difficulties for the photographer. Do you expose for the sky but leave the undersides of the bird either overexposed or underexposed? The result of these decisions is many times a poorly exposed photograph. The front lighting that reflective snow cover brings can alleviate some of these decisions.
Here are a few examples of what I mean:
The first example is a photo of a juvenile Eastern Red-tailed Hawk taken in February. The bird is very pale underneath and many photos of this bird usually are over exposed resulting in a whitish appearance. With reflective snow cover I was able to properly expose this bird without sacrificing the color or depth of the blue sky, in fact it deepened the blue. Settings for this photo were ISO 200, f5.6 at 1/2500 second.
At just the opposite end of the lighting spectrum is the above photo of a dark morph Western Red-tailed Hawk taken in January. Exposing for the dark undersides of this bird usually requires opening up the f- stops or decreasing shutter speeds. Because of reflective snow cover I was able to expose this bird at ISO 200, f5.6 at 1/1250 second.
The photo at the beginning of this article is a Northern Bobwhite (also taken in February). Here I had an evenly balanced subject but the snow itself presented an exposure issue. Realizing if I overexposed the snow the photo would be ruined so I decided to make sure the snow was properly exposed and the result was perfect. The photo was shot at ISO 200, f5.6 at 1/2000.
So the next time there's fresh snow cover and bright sunlight get out and make some of the best photos of birds you'll ever get!
If you enjoyed this article, and would like to read more, please signup for free updates by email or RSS.
---
About the Author: Vic Berardi is a raptor lover that lives in the Midwest. He is the founder of the Illinois Beach State Park Hawk Watch and every weekend of the year you'll find him searching for hawks and photographing them. Several of his photographs have been published in a leading raptor journal and in articles he has written. During the year he gives presentations teaching others about hawks and hawk migration. Vic also photographs dragonflies and wild flowers and is always respectful of nature and its creatures..