Do you constantly find yourself resizing your photos to prepare them for the Internet? Maybe for posting them to a blog, emailing them to a friend, or adding them to your online photo gallery?
Surprisingly, photo resizing (or resampling) involves some very complex computer algorithms. There's many ways to do it, and I won't go into all the technical details here, but the bottom line is that the default resizing method in Photoshop isn't the best one available.
If you change just one setting when resizing your photos, you can get much higher quality results that will even make your photos look sharper!

Here's how to do it:
1.) Under the "Image" menu on top, select "Image Size…"
2.) This will bring up the resize window, pictured below. Notice the drop down listbox at the bottom, where the default selection is "Bicubic (best for smooth gradients)." Unfortunately, this is not always the best option.
3.) From the listbox, select "Bicubic Sharper (best for reduction)" instead, and enter a new size for your image (try something around 600 pixels wide to see dramatic effects):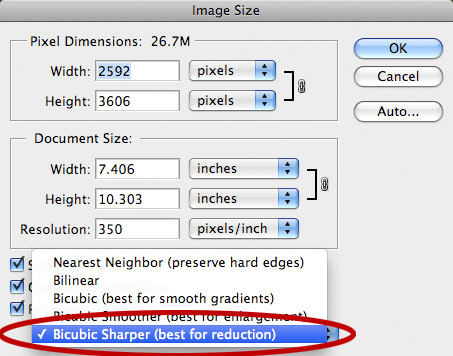 4.) Click "OK" and check out the results! Try comparing it with the standard resizing option to see how much better this method works. Here's an example comparison:
Click here to open a side-by-side comparison of the above photos.
Most of the time (but, not always), this method will produce much better results than the standard resize option. If you use this method and get a weird looking photograph (sometimes it may look "too sharp"), then go back to the default!
And, one last note: have you ever noticed how photographs on Flickr look a lot sharper than anywhere else? It's actually because Flickr uses the best resizing algorithm, known as Lanczos resampling. For some reason this algorithm isn't available in Photoshop.