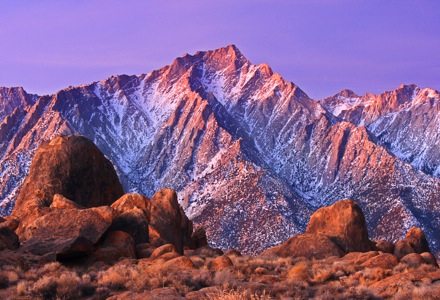 Landscapes are one of the most difficult subjects in nature photography. It's always hard deciding what to include and what to leave out. And, it's not easy translating a vast three dimensional space into a two dimensional photo.
Well, the next time you're having trouble composing a landscape photograph, consider these three elements:
Foreground
The job of the foreground is to lead the viewer's eyes into the background. This helps add a lot of depth to the image, which makes the two dimensional photo look more like it's three dimensional.
The foreground doesn't have to be particularly amazing (as long as the background is)–just pick something that contrasts well with the background. Any objects with leading lines that point towards the background definitely help too.
If there are any large or notable objects in the foreground (such as flowers, big rocks, trees, etc), then it might help to either put them in the center of the frame and have them expand the entire width of the frame, or put them off center (following the rule of thirds). The photo above would have looked very weird if all those large rocks in the foreground were in a big pile in the center of the image, instead of being off to the sides.
Background
Usually, the background is the most dramatic part of a landscape photograph, because it's what the foreground leads up to. So, when the viewer's eyes get there, it's nice to have something powerful to look at.
Classic backgrounds include things like mountains, hills, lone trees, lakes, or great big skies with interesting cloud formations (especially at sunrise or sunset).
One simple way to make the background stronger is to photograph the landscape under strong light, which is another element of a great landscape 🙂
Strong light
If there's one thing that can really add a lot of impact to your landscape images, then it's strong light. By that, I mean just about any lighting conditions that produce saturated color or strong contrast.
One way to get more saturated color is to photograph your landscapes during sunrise or sunset. These are known as the "golden hours" because they produce a softly diffused light that results in colors that "pop" with saturation (the photo above was shot at sunrise). Also, keep in mind that the sunrise typically casts a cooler (blue tinted) light, and the sunset always casts a very warm (red tinted) light.
Generally, the mid-day sun produces more flat looking colors.
But, the mid-day sun shouldn't be avoided completely. In fact, Ansel Adams created some of his most powerful images under the mid-day sun. The key to photographing landscapes under the mid-day sun is to focus on contrast of brightness instead of contrasting colors—this means the daytime is great for capturing images that you later convert to black and white. The daytime sunlight has a habit of producing harsh shadows, so it's a great time to capture some strong contrast—the key is to think in black and white.
What did I miss?
If there's another element you usually see in strong landscapes, please tell us about it by leaving a comment below. Thanks! 🙂
---


About the Author: Steve Berardi is a naturalist, photographer, software engineer, and founder of PhotoNaturalist. You can usually find him hiking in the beautiful mountains and deserts of southern California.