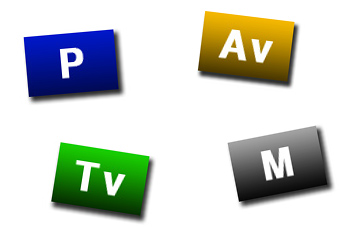 Have you ever been confused by all the different modes on your camera? Maybe you understand what each one does, but you're not sure which mode is best for what. Well, here's a summary of the most commonly used modes for nature photography:
Program (P)
When you shoot in Program (P) mode, the camera pretty much makes all the decisions for you by automatically choosing aperture and shutter speed. However, it will not pop up the flash (unless you tell it to).
What it's good for: not much for nature photography
I've never found a good use for program mode when shooting nature photos, but I've heard it's great for street photography, when the perfect moment may only last a few seconds and you don't have time to fool around with camera settings.
This may lead you to believe Program mode would also be good for shooting wildlife, but to ensure you get your whole subject in sharp focus, you'll usually need to control the aperture yourself.
Aperture Priority (Av)
With Aperture Priority (Av) mode, you choose the aperture and the camera decides the shutter speed.
What it's good for: landscapes
I shoot almost all my landscape photos in aperture priority mode. Here's why: with landscapes it's important to have everything in sharp focus, so you'll want to manually choose a small aperture.
Landscapes are usually most dramatic during sunrise or sunset when the light conditions are constantly changing, so it's difficult to determine the correct exposure on the fly. Not only that, but you may also be using a polarizer or graduated density filter that complicates the exposure calculation even more.
So, what's worked for me is to shoot in Av mode, with exposure bracketing at -1/+1, because when you shoot landscapes at sunrise/sunset you'll often experience harsh shadows and strong contrast between elements that are sunlit and those that are shaded. You'll want to take multiple exposures to blend them later in post-processing.
Shutter Priority (Tv)
With Shutter Priority (Tv) mode, you choose the shutter speed and the camera decides the aperture.
What it's good for: waterfalls, streams (kind of)
When I first started photographing waterfalls, I experimented with shutter priority mode, since the most important thing was to get a long enough shutter to make the water silky looking.
However, I quickly switched to manual after shooting more and more waterfalls in brighter lighting conditions. Not only is a longer shutter necessary for waterfalls, but a somewhat small aperture is also important to keep everything in focus (f/11 or smaller). So although I was able to choose a long shutter with Tv mode, the camera didn't always automatically select the aperture I wanted.
Manual (M)

With manual mode, you choose the aperture and the shutter speed. This mode gives you complete control of the camera.
What it's good for: everything (but difficult for landscapes)
I use manual for almost everything now (except landscapes, which I do in aperture priority mode). I've found that it's most critical for photographing wildflowers and wildlife. With wildflowers, the camera's auto exposure will rarely guess a good exposure (regardless of metering mode). And, with wildlife, since you'll probably be shooting in JPEG, it's critical to get a good exposure.
If you enjoyed this article, and would like to read more, please signup for free updates by email or RSS.
---

About the Author: Steve Berardi is a naturalist, photographer, computer scientist, and founder of PhotoNaturalist. You can usually find him hiking in the San Gabriel Mountains or the Mojave Desert, both located in the beautiful state of California.