If you enjoy wildlife photography, then you'll surely love to capture action shots: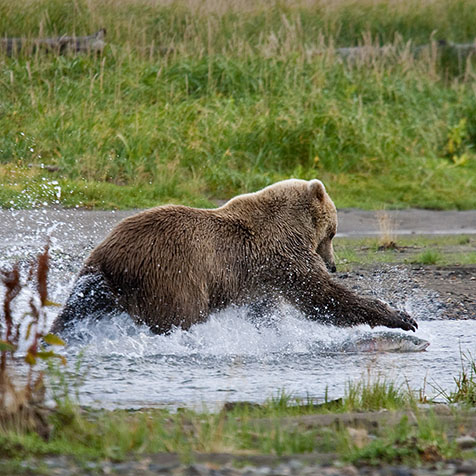 Capturing action or behavior gives impact to your images. Sure, an image of a bear just standing in a creek can be a nice image, and it certainly has its place. But, an action shot of that bear can bring your photography to the next level.
To increase your chances of capturing action shots, here are a few techniques you can use:
Use a Fast Continuous Shooting Speed
To make the job of capturing animal behavior easier, the frame speed (often called the continuous shooting speed) in frames/second, is probably at the top of the list. Simply put, the more frames you can shoot in a given timeframe, the better your chances of capturing the wanted behavior. This is particularly important when trying to capture those intimate little details, like the bear about to catch the salmon in the opening photo. I think you will agree that taking 10 images per second will capture more potential actions than shooting 6 images per second. And by making multiple images, you will increase your odds that at least one will be in focus and sharp.
Use a Fast Shutter Speed
A fast shutter speed is critical in capturing animal actions and behaviors. A fast shutter speed is required to capture tack-sharp images of wildlife; if the shutter speed is too slow, movements by the animal (or by you) will cause the image to be soft-focused, or even blurry. What is a fast enough shutter speed? Well, that will depend on the speed of your subject, but a good place to start is 1/500 second. Be aware that even wildlife that appears to be sluggish and slow, such as a large grizzly bear, can move at extreme speeds without warning!
Use a Moderately High ISO
ISO is important to control to assure you can get a fast shutter speed. If the ISO is set too low, then you will be unable to get a fast enough shutter speed. However, be aware that a very high ISO will make it more likely that you will encounter electronic noise in your images. This noise manifests itself as either a very grainy appearance, or even green/red flecks in the darker portions of the image. So know your camera's sensor capabilities and try to use an ISO only as high as you need to ensure a fast shutter speed.
Use a Wide Aperture
For action images, the aperture setting should be set to a large opening (i.e. small "f-number"), which will help you obtain a faster shutter speed. Fortunately for us wildlife photographers, a large aperture opening also gives us a shallow Depth of Field (DOF) which is preferable for an aesthetic look to our images.
Keep the Hammer Down!
When capturing action photographs, it is imperative to shoot a lot of frames. Why? Many images will be slightly out of focus, either from movement of the subject or "camera shake" caused by camera movement as the images were made. So, shoot a lot of images and you will likely be rewarded with at least one sharp image.
Know Your Subject and Anticipate the Action
To better capture action or behavior, always do your research and understand your subject's behaviors and habits. Knowing how your subject moves and acts will often give you a heads-up for what they'll do next. For example, did you know that large birds of prey (eagles, hawks, etc.) will often defecate before they launch into flight? So, if photographing a bald eagle sitting on a tree stump, if you see it suddenly stretch forward and defecate, you know to be ready for an in-flight shot.
Use Continuous Focusing and Limit Your Focus Range
Focusing for action photography is best accomplished by using a continuous focusing mode (Canon calls it "AI Servo", other manufacturers may have different names for this mode, so please check your camera manual). In this mode, the camera's focusing system will sense and maintain focus on the subject, should it move either closer to, or farther from the camera. And in action photography, this is typically the case!
Another focusing tip is to place the lens's focusing distance switch (sometimes called a "focus limiter switch") into the appropriate mode. For example, if you are shooting a subject that is 50 meters away, and it will not be approaching to less than 6.5 meters, by placing the switch into the distant mode (i.e., "6.5m to Infinity" on my Canon 100mm-400mm lens), my lens will focus quicker on the subject than if it is placed in the "1.8 meters to Infinity" setting. This added speed will definitely be an advantage to your focus speed.
I also try to pre-focus on the subject, before any action begins. Then, when the action heats up, you will already be focused on or near the subject, and focusing will be very quick. And if the subject is moving towards you, pick out a spot in front of the animal and pre-focus at that spot. When the animal reaches that spot, you will be in focus.
What Are Your Thoughts?
What have I missed? Are there any special tricks or tips that you use to capture action wildlife shots? If so, please leave a comment and let us know!
---
About the Author: Jim Braswell is a lifelong resident of Missouri, photographing nature in Missouri and beyond. His photographic passion is wildlife and wildflowers. When working with wildlife, his goal is to capture animal behaviors and actions. Besides photographing nature, Jim teaches photography and Photoshop at a local career center and participates in several art fairs/festivals every year. View more of his work on his website at: http://www.showmenaturephotography.com/