Anyone who has ever taken a sharp, properly exposed, and well-composed photo has heard these very words.
A couple of years ago someone I know, a writer of three published books and numerous articles, came across some of my flower photos. He looked at them intensely and said, "Wow, you must have a really good camera!"
I stared at him looking perplexed then smiled and said that I thought his writing was excellent and that he must have a "really good keyboard and computer!" He understood.
Below is one of the photos he looked at. To most people this looks like a simple photograph of an interesting flower: a Fringed Gentian.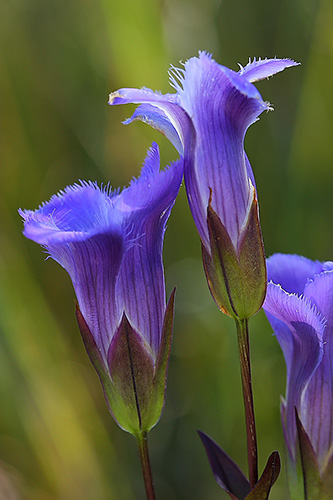 What they're not seeing is that this particular flower was only 10" tall and was in fairly moist ground and that I was virtually on my belly lying in mud.
They're also not seeing the reflector my wife was holding to get that subtle backlit effect and the shower curtain draped over a tree branch that we had diffusing the light but in such a position to still let the sunlight fill the bottom of the flower.
They're also not seeing, or should I say feeling, the multitude of mosquitoes biting me because I refuse to wear too strong a repellent because it might get on the plastic components of my equipment and cause them to melt.
How about this next photo?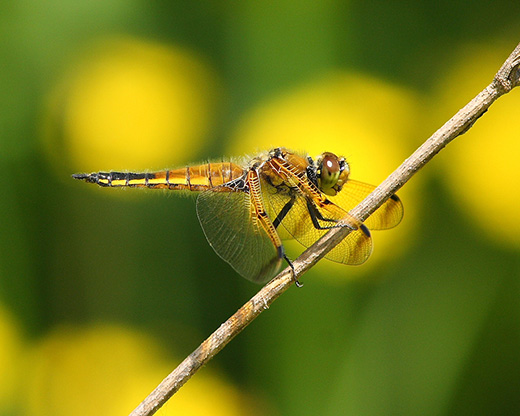 Anybody who has ever attempted to photograph dragonflies or butterflies knows that trying to shoot photos of these critters is virtually impossible.
So, is a photo like this luck? Hardly. Understanding a species such as this Four-spotted Skimmer is vital to photographing them. Many dragonflies almost never seem to rest, whereas skimmers frequently come to a favorite perch and rest for several minutes. Patience is required. But that alone doesn't make a good photo. You still have to have good technique to get good sharpness and perfect exposure.
What the inexperienced might not see is that this photo has several elements working in its favor. It is perfectly exposed, tack sharp and has an interesting look about it. What is not seen is that I purposely and patiently waited for this dragonfly to land in front of the small yellow flower patch that complimented its coloring.
What also is not seen is that to do this I needed a spot that I wouldn't be looking down at the flowers and have the dragonfly image taken from the top. I wanted the flowers behind it and the dragonfly level to the eye. The ground I was standing on had a slope to allow the perch to be level and the flowers show behind.
To get the sharpness I had to use a tripod and mirror lockup. And, to get depth of field you need to use at least f/16. A low ISO of 200 and f/16 in bright sunlight requires a shutter speed of approximately 1/200 second. But lighting here was slightly diffused by a thin layer of clouds so I had to use a third of a stop slower.
The last photo that gets the, "Wow, you must have a . . ." statement is this one: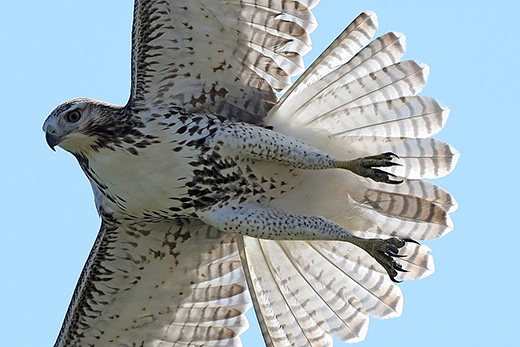 Here we have a juvenile Red-tailed Hawk at an angle that one can only wonder how this photo was taken! Again, perfect exposure and sharpness are absolutely mandatory. Exposing for the undersides of a backlit lightly colored bird is very tricky. But how was this photo taken?
This bird was perched when I first saw it. Many of the perched hawk photos I shoot are taken when the bird is alongside the road either on a utility pole, a fence or an overhanging tree branch.
I prefer to position my vehicle with the bird on the passenger side. I pull up slowly, exit the vehicle as cautiously as possible and take whatever shots I can before the bird takes off.
Many times the bird remains perched even after I've taken all the shots I want and other times it takes off as I slow down and before I exit the vehicle. This bird did the latter. Knowing I couldn't get out of the vehicle quick enough I extended my lens through the open sky window and fired away as the bird passed over me. By the way, I always leave the sky window open, even in winter!
But what is it about these three photos that make them a "Wow, you must have a really good camera!" photo and how does it apply to nature photography? The answer is quite easy.
I feel it is important to take nature photos from an angle not normally seen. The gentian photo was taken at a very low level in a controlled but natural lighting. The dragonfly photo was taken at a low angle to let the flowers in that background add contrast to the photo. And lastly, the hawk photo is at an angle very few people see in the split second a close bird flies overhead. Most people would duck and never see it at all!
If you enjoyed this article, and would like to read more, please signup for free updates by email or RSS.
---
About the Author: Vic Berardi is a raptor lover that lives in the Midwest. He is the founder of the Illinois Beach State Park Hawk Watch and every weekend of the year you'll find him searching for hawks and photographing them. Several of his photographs have been published in a leading raptor journal and in articles he has written. During the year he gives presentations teaching others about hawks and hawk migration. Vic also photographs dragonflies and wild flowers and is always respectful of nature and its creatures.