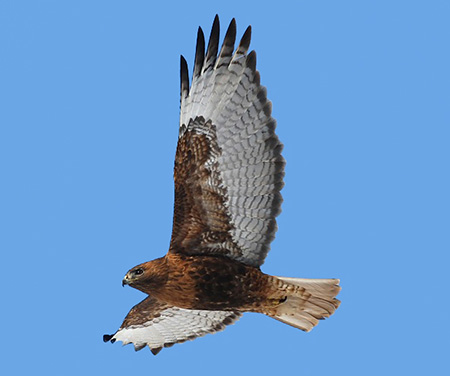 Sometimes as nature photographers, our minds focus too much on getting a good photograph, instead of just enjoying nature and being there to capture some of the light we come across.
It's important to keep nature natural, and I'll tell you a story to help illustrate what I mean. It's about the ethics of attracting animals by "baiting" them–feeding them in an effort to get them to come closer to you, so you can get a photograph.
Journey of the Snowy Owl
A few species of owls, in particular the Snowy Owl, Great-gray Owl and the Northern Hawk Owl, migrate down into the lower 48 states during the winter months and occasionally take up temporary residence in urban areas. This is true for other birds of prey including hawks such as Rough-legged Hawks and Western Red-tailed Hawks.
As many photographers know, capturing photos of wild birds is quite difficult and capturing spectacular photos is near impossible unless you have unlimited patience and the right techniques.
Why do you take photographs?
Most people take photos for that final spectacular shot to show that they've achieved something. We do it first for ourselves, then we share that photo with others.
However, it's the "what" we do that doesn't seem to cross our minds. The lure of a wild owl migrating down from the arctic or some remote region to the north ignites something in all of us. It's the wilderness coming to us instead of us going to it. But is it?
Think of that Snowy Owl that migrates down from the arctic. Most that do are juveniles less than a year old. Most of the adults stay in the arctic. When we take a photo of a Snowy Owl near a city on an empty corner lot that isn't exactly what I would call a shot taken in the wilderness. It's a shot taken of an occurrence, an illusion of the wilderness.
The use of "bait," such as live mice or a chunk of chicken liver, increases the chances for this illusion and it fools everyone. Most importantly though, it fools the owl. Ethics are traded for aesthetics.
Sure, many will find justification in what they do and many others will compliment them for their final result. But, I need to know one thing. Why do we want to tame a wild animal? For any reason other than to take away something it has and we want?
There is nothing natural about these methods–only deception. Evolution and the natural process are abated and replaced with urgency.
How to take natural photographs
For those who want good photos from a naturalist point of view, a few things need to be kept in mind:
Why are you taking the photo in the first place?
For money?
For accolades?
For personal records of what you've seen?
Answer these questions first and you may find out more than you think.
To get truly natural photographs, you need to have:
Patience
Persistence
A very good knowledge of the subject's behavior and habits
This all takes time–sometimes lots of time. But, the reward for taking photos this way is far greater than the shortcuts many take to achieve what they alone think is acceptable.
The photo at the beginning of this article is of a dark morph Western Red-tailed Hawk, and was taken over the course of 20 plus hours of observation and patience. I won't go into the long details, it may even take 20 hours to explain, but this particular hawk did something predictable based on those observations and I happened to be at the right place at the right time.
Completely natural and the bird never knew I was there. Neither did its evolutionary soul. That is a natural photograph.
If you enjoyed this article, and would like to read more, please signup for free updates by email or RSS.
---
About the Author: Vic Berardi is a raptor lover that lives in the Midwest. He is the founder of the Illinois Beach State Park Hawk Watch and every weekend of the year you'll find him searching for hawks and photographing them. Several of his photographs have been published in a leading raptor journal and in articles he has written. During the year he gives presentations teaching others about hawks and hawk migration. Vic also photographs dragonflies and wild flowers and is always respectful of nature and its creatures..