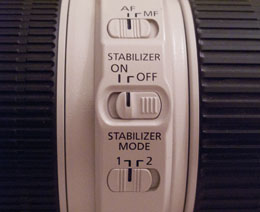 Many camera lenses come with some kind of lens stabilization technology. It's usually called something different by every camera manufacturer (e.g. Nikon calls it "vibration reduction" and Canon calls it "image stabilization"), but they all have the same goal: helping to stabilize your lens.
It works great for those times when you're forced to hand-hold your camera, but you should always make sure to turn it off when your camera is on a tripod.
The stabilization technology works by unlocking part of your lens, which allows the lens to "correct" movements. But, when your camera is sitting still on a tripod, the stabilizer will often look for movement that isn't there, resulting in a blurry photo.
To illustrate this, take a look at the two photos I shot below. For both shots, my camera was locked onto a stable tripod. In the image on the left, I had the lens stabilization turned OFF. And, then I simply turned it ON for the image on the right.
Both photos above were taken with the same camera, lens, and tripod. The camera's position did not move between the shots, and the aperture/shutter speed/ISO also stayed the same. The only difference between the two photos is that lens stabilization was turned ON in the photo on the right.
Interestingly, as I shot more photos with the lens stabilization turned ON (and the camera still in the same position locked on a tripod), the images got sharper with each shot. So, it seems like this particular lens was able to "learn" that the camera was on a tripod. But, every lens works differently, so it's not safe to assume ALL lens stabilization works like this.
Some lenses claim to have the ability to always detect when your camera is on a tripod (and it'll turn off the stabilization automatically), but I wouldn't recommend relying on that feature. I'm sure that detection isn't always 100% accurate (just like your autofocus isn't always 100% accurate).
Plus, image stabilization uses up your battery. So, keeping it turned off will let you take more photos or shoot more video on one charge.
Btw, the text in the photos above is from the side of one of my favorite photography books: Ansel Adams In The National Parks.
If you enjoyed this article, and would like to read more, please signup for free updates by email or RSS.
---


About the Author: Steve Berardi is a naturalist, photographer, computer scientist, and founder of PhotoNaturalist. You can usually find him hiking in the beautiful mountains and deserts of Southern California.