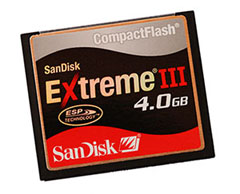 Although there are ways to reduce the risk of memory card problems, you can never escape them completely.
Sooner or later, you're going to come home from a wonderful day in the wilderness with a memory card loaded with great photos, but when you try to download those shots to your computer, your memory card will fail for whatever reason.
Well, when your memory card decides to stop cooperating with you, here are a few things you can try to save your photos:
#1 – Try another memory card reader
This should always be the first thing you try, because it will not affect the card itself in any way. Sometimes certain combinations of memory cards, readers, computers, and operating systems don't work well together, so you may be able to save your photos by simply using another card reader, connecting your camera directly to your computer, or trying another computer.
Even if your memory card has always worked with your current configuration of computer, operating system, etc, you should still try this.
#2 – Skip over problematic images
Have you ever started downloading photos from your memory card and everything is going well until it gets to a specific photo, and then the download process just completely stalls?
Maybe you tried canceling it, then started the download over again, but it still stalled–at the same photo?
This is a common problem that, luckily, has a simple solution: manually copy all the photos before this "problem photo" and then manually copy all the photos after this problem photo.
Somehow when taking the photo, your camera corrupted this problem photo, so your reader will stall whenever you try to access it. Of course, you'll end up losing this problem photo, but this is just another reason why you should always take lots and lots of photos 🙂
#3 – Try using recovery software
Many of the memory card manufacturers have their own software for recovering images, so check their website. Personally, I've had good success with Lexar's recovery software (I was able to recover some hummingbird photos I shot).
You can also try one of these free programs, which seem to work well from the research I've done:
PhotoRec – works on multiple platforms (Windows, Mac, Linux, etc), but not very user-friendly. You may want to get some help from one of your computer friends, or check out this tutorial.
EXIF Untrasher – only available for Mac, and only recovers photos you accidentally deleted (or if you accidentally formatted your memory card).
I haven't used either of these programs, but I promise the next time I run into a corrupt memory card I'll check these out and write a good report about my experience.
When you're done, format the card and test it
Assuming your recovery succeeded, you should now reformat the card (while it's in your camera), take a few shots, and try downloading these images to your computer. This process will just verify that your card is okay, and doesn't have a serious problem that will linger on for your next photo trip.
Join our free newsletter for more great tips delivered by email 🙂
---


About the Author: Steve Berardi is a naturalist, photographer, software engineer, and founder of PhotoNaturalist. You can usually find him hiking in the beautiful mountains and deserts of southern California.