With mobile phones getting more and more powerful these days, they're starting to become some pretty useful tools. They're not just phones anymore. Many of them allow you to install different "apps" that can significantly help you take photos while you're out on the trail.
For example, here's a list of some great apps available for the iPhone:
I've discussed this app before (it also has a free desktop version): it's the ultimate iPhone app for landscape photographers. It'll tell you sunrise and sunset times, moon times, azimuth and elevation of the sun/moon at a specific time (useful for planning landscape shots), and tons more stuff.
The app easily lets you switch between dates, so you can see what time of the year the sun will set where you want it to, and all of this is projected on top of a Google map, making it super easy to visualize where things are going to be. Learn more.
This app gives you similar information as The Photographer's Ephemeris: sunrise/sunset times, moon times, azimuth of the setting sun/moon, current phase of the moon, when the moon will be full, and a few more little details that are useful for landscape photographers.
So, why use this app AND Photographer's Ephemeris? Well, Magic Hour has all this information organized in a more compact manner, so it's easy to open this app and quickly see where the sun will set today and at what time. With Photographer's Ephemeris, sometimes you need to switch between screens to find all this information. Both apps are great when used together. Learn more.
This is a free app that takes advantage of the iPhone's accelerometer and tells you the elevation angle of where the iPhone is pointing. Now you no longer have to guess where a specific elevation angle is, you can see exactly by just moving your iPhone above the horizon and watching the elevation angle change in real time. An extremely useful app for seeing EXACTLY where the sun/moon will be at a certain time. Learn more.
Special thanks to Stephen Trainor, creator of Photographer's Ephemeris, for telling me about this great app!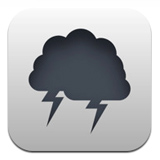 There are tons of weather apps for the iPhone, and I've tried a lot of them, but this one is my current favorite because it simply shows what I'm most interested in: cloud cover. It obtains radar data from Weather Underground and displays that data on top of a Google Map. The app also displays current and forecasted temperatures, wind speed/direction, visibility, and humidity. Learn more.
This app provides a ton of little calculators useful for photographers. It'll let you calculate the precise values for depth of field (e.g. near and far focus distances depending on aperture and focal length), diffraction limits, angle of view for a specific focal length and sensor size, and tons more! Learn more.
What did I miss?
If you've found another useful iPhone app that helps you with your nature photos, please let us know about it by leaving a comment below!
Also, if you're familiar with great apps for another smartphone (like the Android) and would like to write an article about some great apps for your phone, please contact me. Thanks!
If you enjoyed this article, and would like to read more, please signup for free updates by email or RSS.
---

About the Author: Steve Berardi is a naturalist, photographer, computer scientist, and founder of PhotoNaturalist. You can usually find him hiking in the beautiful mountains and deserts of Southern California.