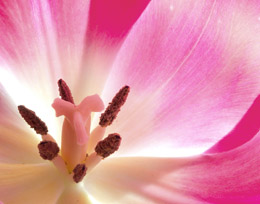 As spring approaches and the dreary overcast days of winter are still upon us, we anxiously await going out in the field for some wildflower photography. But, while you're waiting for those flowers to pop up, you can still do something to help you prepare for those wildflower photos.
Over the winter, I picked up several excellent flower photography books and a few showed some techniques for indoor photography. So, I thought, why not give this a try and see if I can apply what I learned to outdoor wildflower photography. I didn't have any studio lighting, so I decided to experiment with what I already had.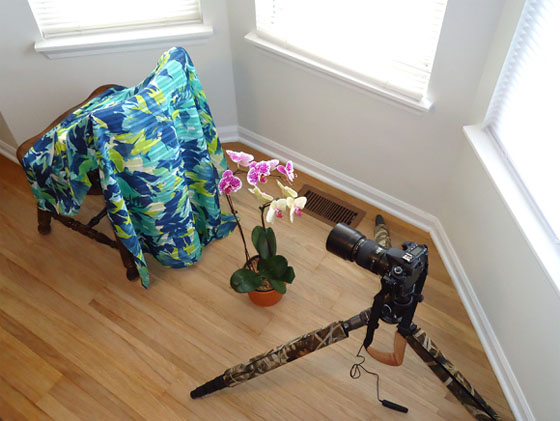 In the photo above, you can see my setup: Canon 60D with a Canon 100mm f2.8 macro lens, a trigger release, a Gitzo GT2530 tripod with a Kirk BH-3 ballhead, and on the left is a chair with a colorful fabric draped over it to provide a background for the Phalaenopsis orchid in front of it. These orchids, which are native to much of southeast Asia, can be purchased at many garden centers, even some grocery stores. They provide a perfect subject for experimenting with new techniques.
There are also many other potted flowers you can try and many cut flowers make excellent subjects too. Cut flowers won't last as long as a potted flower, but they're also less expensive and available in a larger variety.
Back to my setup above, the only lighting here was provided through the kitchen windows. The sky outside was thinly overcast with glowing bright white light from the mid-afternoon sun. Snow was on the ground too, so overall there was an extremely bright and ideal diffused sunlight. Plus, it helped that the walls in my kitchen are also white and reflected this light over the entire room.
Another important element here is to have some choices in background. I went to a fabric store and bought several square samples of various colors and patterns. It's important to know about the Color Wheel when selecting contrasting colors for your flower photography.
After some experimentation, here is the photo I created and converted directly from the RAW image with minor adjustments (levels adjustment and slight sharpening.) The camera settings were ISO 400, f/8 at 0.3 seconds.
br>
Although this image is acceptable as is, I went further and applied the Orton Effect to it to bring out the colors more and give it that dreamy look. Here is the same photo with the Orton Effect applied: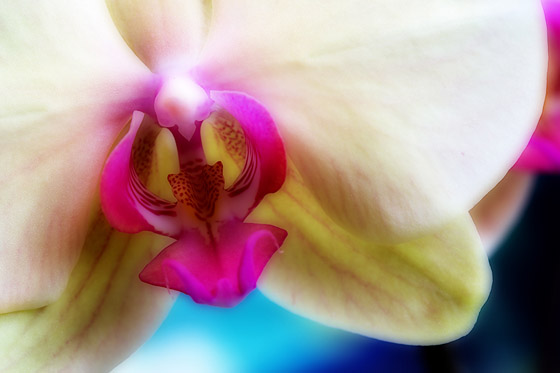 br>
Keep in mind, you (as the photographer) have to make the decision on what post processing to utilize and what message you want to send in your photos. More on the Orton Effect can be found from a quick Google search.
The single most important element is the aperture (f-stop) you use. The aperture is what you have to experiment with here and also the distance you have to work with the background. A limited space and overall size of the background have to be considered. As you can see from the setup image above, I had limited space. This is important because of the depth of field: you don't want the background to overpower your image. It should enhance or complement it only. If your camera has a depth of field preview button, you can use it to see how the background looks at a particular aperture.
If the background becomes an issue, you have two choices that will alleviate the problem.
The first is to take very close shots that eliminate the background altogether. For this you'll either need a true macro lens or use extension tubes. Cropping is also an option if it doesn't jeopardize the overall quality of the photo.
Below is an example of a tight closeup of a tulip where the background isn't a factor. Other than an overhead kitchen light, the only other lighting came from the setting sun as it came through the kitchen window. This sunlight coming at the flower at a right angle really made the bottom of the flower glow. The same camera/tripod setup mentioned above was used. Settings were ISO 100, f/32 at 13 seconds.
br>
The second option you have is to use a black background. In the photo below, of a Sun Lily, I used a piece of black velvet, with the only light coming from an overhead incandescent kitchen light and diffused sunlight coming from the right side of the photo. Settings were the same as the previous photo; ISO 100, f/32 at 13 seconds.
br>
As you can see, no artificial lighting other than an overhead kitchen light was used in these photos. Use of a flash unit may help with fill-light where contrast is an issue and also to achieve other effects. More on the use of flash will be covered in a future post 🙂
Perhaps the most rewarding thing about trying this technique is how much you'll learn. Doing this indoors on a chilly late winter day with a pot of coffee nearby and no outside elements to contend with, offer a relaxed approach to learning more about lighting, depth of field, background and composition. Experimenting with these elements will make you a better wildflower photographer in the long run!
If you enjoyed this article, and would like to read more, please signup for free updates by email or RSS.
---
About the Author: Vic Berardi is a raptor lover that lives in the Midwest. He is the founder of the Illinois Beach State Park Hawk Watch and every weekend of the year you'll find him searching for hawks and photographing them. Several of his photographs have been published in a leading raptor journal and in articles he has written. During the year he gives presentations teaching others about hawks and hawk migration. Vic also photographs dragonflies and wild flowers and is always respectful of nature and its creatures.