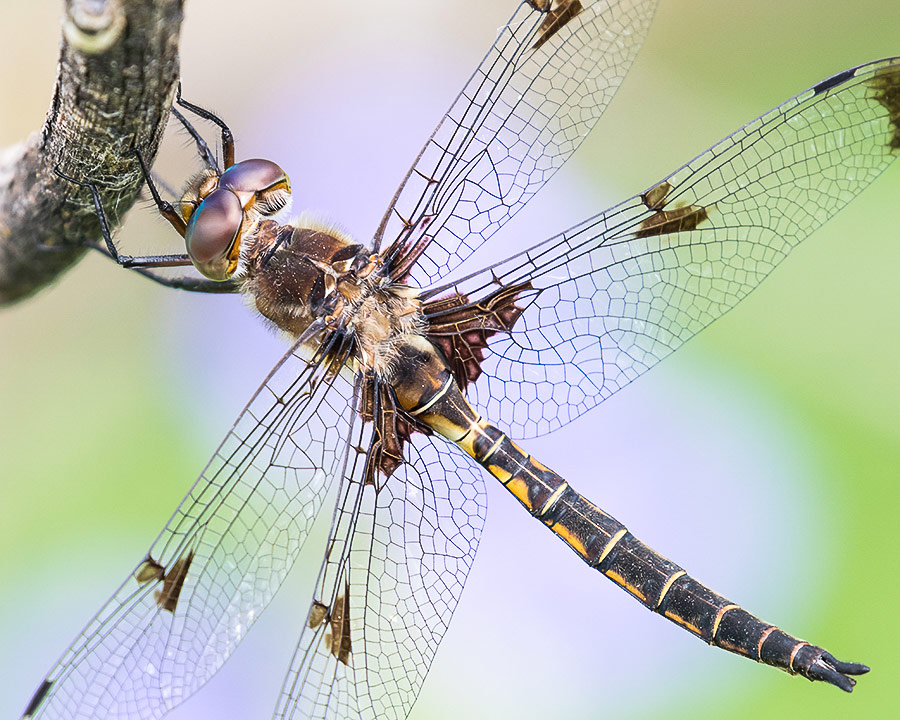 As nature photographers, many times we feel just getting an acceptable photo of an elusive subject is good enough. However, sometimes a bit of patience, luck and perseverance can bring about an enlightening experience.
For example, I recently had an encounter with a dragonfly known as a Prince Baskettail (Epitheca princeps). We all know photographing dragonflies can be a very daunting and sometimes humbling experience. The Prince Baskettail can be especially frustrating because it seems to be forever on the move and rarely rests for any length of time. Occasionally though, luck comes at surprising times and the most important thing to remember at those times is to take full advantage of it and to always keep trying for the best possible photo while keeping in mind to never pressure your subject to fly off.
What I hope to illustrate here is how this photo evolved from initially a "documentation" type photo of a Prince Baskettail to something much more pleasing to the eye. If the dragonfly flew away at this moment, like most do, then at least I would have this record. This is the full frame shot, no cropping but I did some post-processing for clarity: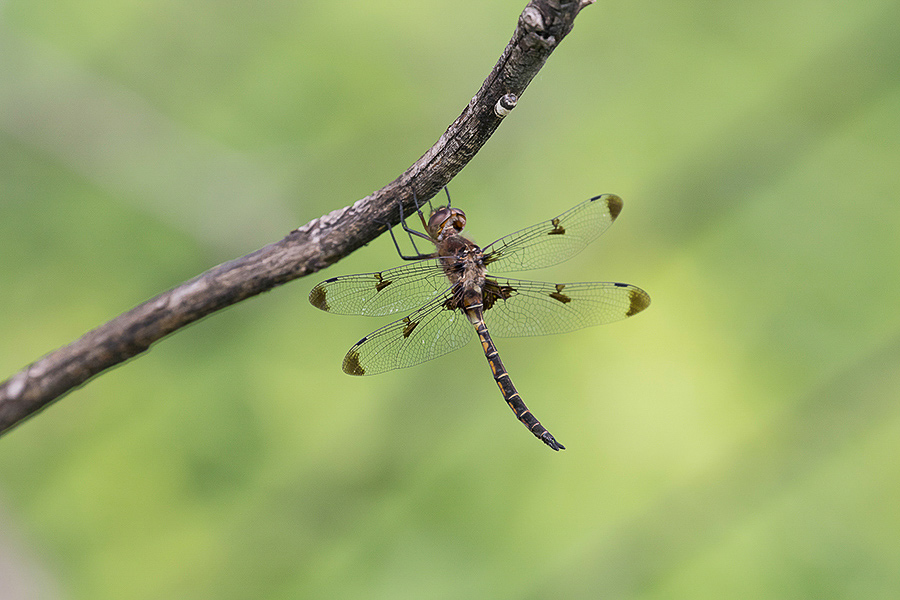 As I approached this subject even closer I noticed something that caught my attention. Those bluish violet wildflowers in the background. The first photo here is what I saw in my viewfinder, again full-frame, no cropping, just post-processed. The second photo is what I saw in the background, a group of Ohio Spiderwort (Tradescantia ohiensis):
Now realizing I might be able to use this dash of color to turn my documentation type image into something a bit more artistic, I began to move a bit quicker and with purpose. Although I would've been satisfied with the shot above as is, with some selective cropping to help with the composition, I decided to see what else I could come up with. Moving in closer surrounded much of the dragonfly with blue. Here is the final photo I ended up with: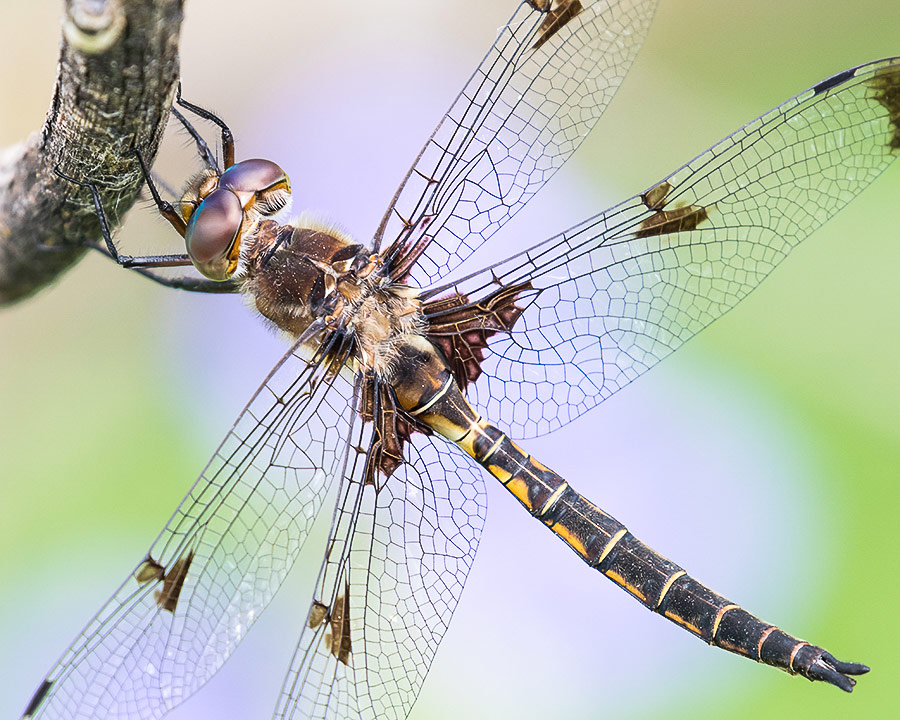 You can see from start to finish the thought process that went into this final photo. To reiterate, some patience as well as some luck (the dragonfly staying still and the wildflowers in the background) were requirements here, but perseverance was the key element. Know what you want to achieve and persevere until you get there.
This sequence of photos from the first one to the last were made over an approximately 20-minute timeframe. That might sound like plenty of time but the number of movements I made to get the result I wanted took that long. And the most important element of it all was that this particular dragonfly never flew off. When I felt I was done (the last photo), I left the spot. I did come by this same spot about an hour later as I backtracked on the trail I was on and it had left. I paused for a moment and couldn't wait to get home to see on the "big screen" what I accomplished.
---
About the Author: Vic Berardi is a raptor lover that lives in the Midwest. He is the founder of the Illinois Beach State Park Hawk Watch which has been in existence now for 18 years. His number one passion is hawk watching and photographing hawks. Many of his photographs have been published in several leading raptor and bird guides along with many cover photos of a leading raptor journal. During the year he gives presentations teaching others about hawk identification, hawk migration and how to photograph them. Vic also photographs other beauties of nature including dragonflies, butterflies, wildflowers and trees. He is always respectful of nature, its creatures and the habitat they live in.