When you first got your camera, I'll bet you took a photo of just about everything. I know I did. When I got my first SLR, I could barely walk ten feet on a trail without stopping to photograph something. I probably photographed every flower or insect I saw.
But, then that pace starts to slow down after you have your camera for awhile. In the beginning, maybe you'd come home with over 400 photos on your memory card, but then after a few months it turned into 200, and after a year it might even get as low as 50 per day.
What happened? At first you might think you're losing interest in photography, or maybe you're in some kind of artistic slump (just like baseball players who sometimes go 40 at-bats without a basehit).
But, before you declare you're in a slump, take a look at the photos you've shot over the past year. And, ask yourself if those photos have improved with time. Is that photo you shot last weekend better than the one you shot two years ago?
Did you learn something new with each photograph you took?
I'll bet you're not in a slump at all. I think you're just learning more about what makes a good photo. And, most of all, you're learning that good nature photos require patience.
Maybe you're shooting less photos today because you now have higher standards for your photos, and instead of photographing everything, you're choosing your compositions carefully and patiently. Since the natural world is full of uncontrollable subjects, those great compositions are hard to find.
For example, when I shot the photo below on the left, I didn't realize how important the background is for close-up photos, so I didn't spend too much time looking for the best flower to photograph.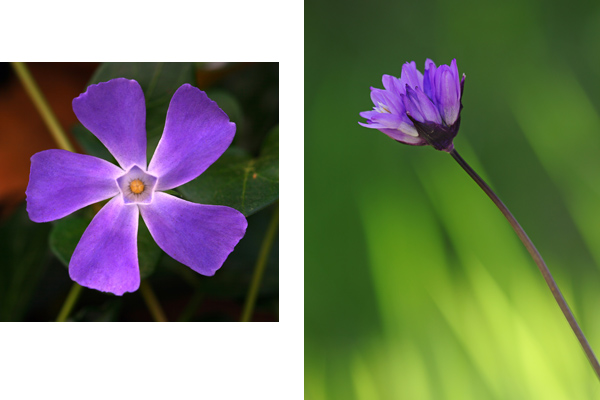 But, now I spend so much time looking for a good background that sometimes I find the background first and THEN look for a flower to photograph in front of that background. Actually, that's how I ended up with the photo on the right 🙂
So, before you declare that you're in a slump, take a closer look at your photos. Maybe you're not in a slump at all, maybe you're just shooting less photos because you're passing up more "bad photo" opportunities.
Think quality, not quantity 😉
If you enjoyed this article, and would like to read more, please signup for free updates by email or RSS.
---

About the Author: Steve Berardi is a naturalist, photographer, computer scientist, and founder of PhotoNaturalist. You can usually find him hiking in the beautiful mountains and deserts of Southern California.