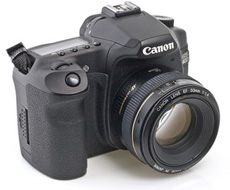 Photography is an expensive hobby. So, it's always tempting to look for the lowest price on some new gear you need.
But, unfortunately, there's a lot of counterfeit gear out there and many retailers mislabel items on their website. So, it's important to use a little caution when shopping for new gear.
For example, a few months ago, photographer Lee Morris (from the great blog, F-Stoppers) purchased a Nikon MB-D11 battery grip on Amazon for $216. It turned out to be a fake (even though "Nikon" was written all over it), that normally sells for about $40.
There's also a lot of unauthorized retailers out there that usually have attractively low prices, but many of them will end up shipping you fake stuff (if they even ship you anything at all).
So, who can you trust?
I recommend two options:
1. Buy from a local camera store that you've known and trusted for some time. If you already buy most of your gear from a local camera store that you've known for awhile, then I recommend sticking with them. Sometimes it may cost a little more to buy from them, but the important part is that you're buying what you think you're buying (and not some counterfeit version).
2. Buy online from Adorama or B&H. Both of these retailers have been selling camera gear since the 1970s, and are used by many professional photographers. I think it's safe to trust either one of these places. Personally, I buy all of my camera gear from B&H, but I think either one is fine.
Full disclosure: I'm part of B&H's affiliate program (I get a 2% commission on any sales generated through PhotoNaturalist, which helps me run this site), but I chose their affiliate program specifically because I trust them. Amazon actually offers TWICE the commission (around 4%), but I do NOT trust them for buying camera gear (because of stories like the one above from Lee Morris, and because of problems I've had personally with buying filters from them).
Where do you buy your camera gear from?
If you have another favorite camera store or have had good or bad experience at Adorama or B&H, please share your story with us by leaving a comment below! Thanks 🙂
If you enjoyed this article, and would like to read more, please signup for free updates by email or RSS.
---


About the Author: Steve Berardi is a naturalist, photographer, computer scientist, and founder of PhotoNaturalist. You can usually find him hiking in the beautiful mountains and deserts of Southern California.