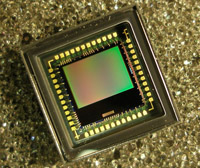 One of the most common questions that comes up when upgrading your digital SLR is whether or not to go with a "full frame" camera or stick with a crop sensor. There's good and bad things about both types of cameras, but here are a few benefits of the larger "full frame" sensor:
#1 – More control over depth of field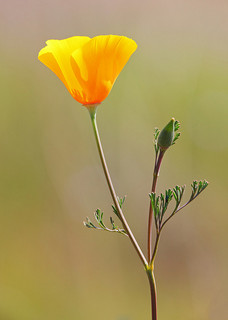 One of the most commonly mentioned benefits of the full frame sensor is that it gives you better depth of field. This is kind of misleading though, because the sensor itself doesn't really do anything for the depth of field of your image.
However, with a larger sensor, you'll have to get closer to your subject to fill the frame, and that means depth of field will decrease (remember that you lose depth of field as you move the camera closer to an object).
This makes full frame cameras an excellent choice for close-up photography, where you usually want very shallow depth of field to help draw attention to your main subject.
#2 – Larger and better quality prints
Probably the biggest benefit of a full frame camera is that it allows you to create higher quality prints, since you won't be enlarging the photo as much as you would with a smaller image.
Remember that these camera sensors are extremely small, and we commonly enlarge those tiny images to 30×20 or 20×16 prints. So, any increase in size to that sensor will lead to sharper and higher quality prints.
#3 – Better low light performance (in general)
In general, the full frame sensors have larger pixels so that generally means you'll get less noise at higher ISOs. But, this is only a generalization. It's not always the case. With the newer cameras, this seems to be less and less of an issue.
Disadvantages
With the three great benefits above, you might think that a full frame camera is always an upgrade over a crop sensor camera, but there's some disadvantages you should consider:
Slower frame rate. With a larger sensor, there's a lot more pixels to record to the memory card, so it'll take longer to save those images. This means that in general full frame cameras capture far less frames per second (fps) than crop sensor cameras. This can make a huge difference when photographing some subjects, such as wildlife.
Bigger/heavier cameras. The larger sensor doesn't add much weight or size by itself, but with a larger sensor the camera needs to be bigger in order to house it properly. This generally means a full frame camera will weigh more and will take up more space, which could be an issue if you're backpacking with the camera.
What did I miss?
If there's another benefit or disadvantage of full frame cameras that you know about, then please share it with us by leaving a comment below. Thanks! 🙂
---

About the Author: Steve Berardi is a naturalist, photographer, software engineer, and founder of PhotoNaturalist. You can usually find him hiking in the beautiful mountains and deserts of southern California.