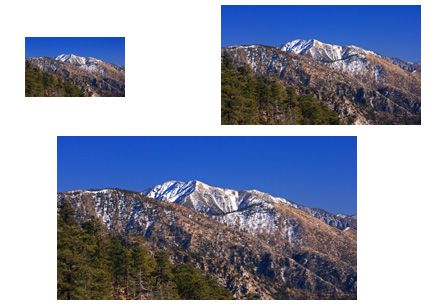 There seems to be an overwhelming obsession with megapixels these days.
It's always the first number reported when a new camera is released, and many people still think it indicates the quality of the camera's photographs.
Well, unfortunately that's not the case. There is no direct correlation between number of megapixels and image quality. We all have a natural desire to sum up a product with one number, but with a camera that's impossible.
So, what do megapixels really mean?
Megapixels refer to the number of pixels in the final image. It simply tells you how large you can print your photo without having to enlarge it.
Here's a table that matches a few megapixel values to the maximum size print they can produce:
As you can see, even a 10 megapixel camera can get you large poster-size prints!
Other advantages of megapixels
Although megapixels have no direct correlation to image quality, there are two advantages of having a lot of megapixels, that will indirectly give you better images:
Cropping. Having a lot of megapixels gives you more freedom when cropping images, because you simply have more pixels! You'll be able to crop an image and still maintain a good resolution. This could be useful when you max out your zoom lens and your subject still doesn't fill the frame.
Resizing. If you use the proper resizing method (or better yet, use the best method, Lanczos, available in the GIMP), then reducing the size of your image can actually help sharpen it too. Having a lot of extra megapixels will allow you to take advantage of this special form of sharpening, while still keeping a large enough resolution for your desired print size.
How many megapixels do you need?
It depends on your end goal: will you be printing large poster size images? Do you crop your photos often? If so, then you'll probably want at least 10 megapixels.
But, if you just want to snap photos, post them on the web, and occasionally make smaller sized prints (i.e. less than 13×19″), then you'll be just fine with 6 megapixels!
I recently read an interesting article at the Online Photographer that explains how most people would be perfectly fine with a 3 megapixel camera. Sounds shocking at first, but when you consider how most of us just snap our photos and share them online, resolution really isn't super important in most cases. As the author of the article points out, "if a digital photographer never make prints, what in the world does he need a lot of megapixels for?"
What really matters is the quality of each pixel, not the quantity.
Of course, most SLRs these days come with at least 10 megapixels, so they'll all give you those large print sizes, but when you're debating between a 10 MP camera and a 15 MP camera, just remember that those 5 extra megapixels have nothing to do with image quality.
For more information on the "megapixel myth" check out this article by Ken Rockwell.
If you enjoyed this article, and would like to read more, please signup for free updates by email or RSS.
---

About the Author: Steve Berardi is a naturalist, photographer, computer scientist, and founder of PhotoNaturalist. You can usually find him hiking in the San Gabriel Mountains or the Mojave Desert, both located in the beautiful state of California.