When you look at a photograph, you don't view it as a whole. Instead, you first focus on one key area that grabs your attention and then you move your eyes throughout the rest of the frame to see what else is there.
Where your eye travels from that first spot depends on the image, and how that spot guides you to another spot in the frame. In an image that has good "flow," your eye will always know where to go next (elements of the image will guide you). But, if an image doesn't have a natural direction of flow, then it's harder for the viewer to move through the image (they don't know where to start and then they don't know where to go from there).
The key to guiding your viewer through an image is to pay close attention to the natural lines in your composition.
For example, can you spot the natural lines in the image above? I composed the image so there were natural lines that lead into the background: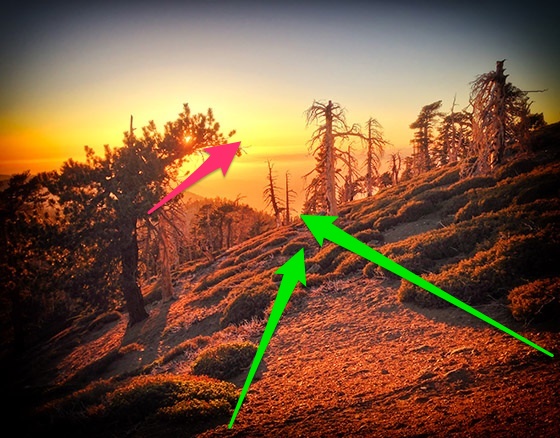 Without these natural lines, the viewer's eye wouldn't travel as easily through the image. The viewer might look at one spot and then not know where to go from there.
These natural lines can also be "subjective" — the classic example is eyes of wildlife. In wildlife photographs, the viewer will almost always first look at the subject's eyes, and right after that they'll look at where those eyes are looking.
Does an image always need natural lines to guide the viewer?
Of course not! There's really no hard and fast rules in photography, but it's still good to understand how you can use lines to help the viewer move through an image. It's especially helpful for landscape images.
How else do you guide the viewer through your images?
Other than lines, how else do you help the viewer move through your images? Please share your ideas by leaving a comment below, thanks!! 🙂
---


About the Author: Steve Berardi is a naturalist, photographer, software engineer, and founder of PhotoNaturalist. You can usually find him hiking in the beautiful mountains and deserts of southern California.