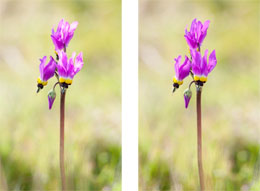 In a previous post, I talked about how you can build a light diffuser out of a shower curtain and wire clothes hanger. You can use this diffuser to help cast a soft light on your subjects, which helps eliminate harsh shadows and really makes the colors of your subject pop. It's especially helpful for photographing wildflowers.
Here's an example of the difference this diffuser can make: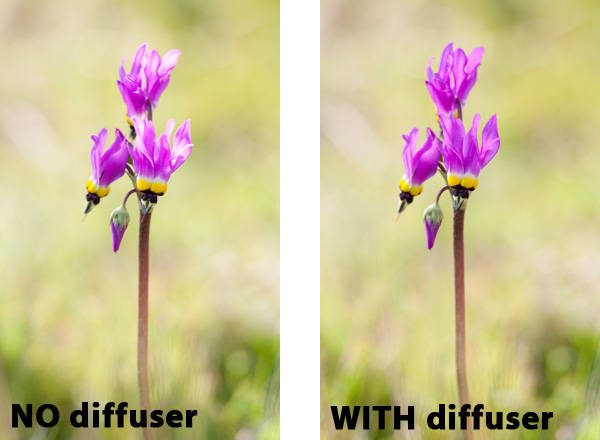 Without the diffuser, you get some harsh shadows and bright highlights. But, with the diffuser, you get a much more balanced and soft light on the flower, so every part is evenly lit (this helps preserve the varying tones of the flower).
What's important to remember here though is that neither photo is necessarily "correct." It all depends on the type of look you're going for. Sometimes you may want those harsh shadows, and sometimes you may not. If you can't decide which look you like better, then just take a few shots with and without the diffuser–then you can decide later when you see larger images on your computer 😉
For example, when I first shot the photo to the right, I thought this California Poppy looked better under diffused light. But, then I looked at it under direct sunlight, and really liked the way it looked with the Sun shining directly into it, so I shot another photo without the diffuser.
If you enjoyed this article, and would like to read more, please signup for our free email newsletter.
---

About the Author: Steve Berardi is a naturalist, photographer, computer scientist, and founder of PhotoNaturalist. You can usually find him hiking in the San Gabriel Mountains or the Mojave Desert, both located in the beautiful state of California.