One of the hardest parts about photographing wildlife is learning how to use a long lens. There's a lot of little things you have to get used to with that big lens.
One of those is simply learning how to quickly locate your subject in the viewfinder. With such a long lens (around 400mm or greater), you have such a small field of view that it becomes hard to locate your subject.
Being able to locate your subject quickly is important because you usually only have a second or two to take a shot. This is something I learned pretty quick when I went to photograph hawks with my dad a few weeks ago.
Well, I've thought of a little exercise that will help you get used to locating your subjects through that long lens–and it involves three bananas. And, don't worry: I'm not gonna tell you to use the bananas as bait!
Here's how the exercise works:
( 1 ) Place the bananas far away from each other in a large room. Here's an example setup (bananas are circled in red):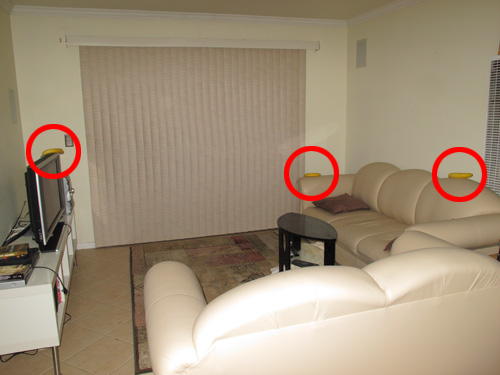 ( 2 ) Stand where you can see all the bananas in front of or to the side of you.
( 3 ) Randomly pick a banana, and try to find it as quickly as possible through your viewfinder. It'll also help if you try to focus on the banana too, but the main thing to practice here is simply finding the banana.
( 4 ) Continue to randomly pick and locate the bananas through your viewfinder, until your arms fall off (just kidding: you might want to stop a few minutes before that happens)
Locating subjects through a long lens is mostly about hand-eye coordination, so this exercise will help improve these skills. I've been doing this for about 15 minutes a day for the last couple of weeks and have definitely noticed an improvement.
It's kind of like learning to play the guitar. At first, it's really hard to move between the strings and hit the one you want, but with a little practice you get used to where those strings are and can instantly locate each one of them.
Of course, you don't have to use bananas for this exercise. I just used them as an example, and to make the title of this post interesting. You can use any objects you have available. The important part is that you pick them randomly, and that you try to increase your speed in finding them through the viewfinder.
Practicing this kind of stuff at home will help you locate your subject when it really matters: when you're out on the trail and have just a few seconds to respond. Whether or not you can locate your subject quickly will often determine if you get a shot or not.
What other methods do you have?
If you've discovered another method or exercise that helps you quickly locate subjects through a long lens, please share it by leaving a comment below. Thanks!
If you enjoyed this article, and would like to read more, please signup for free updates by email or RSS.
---

About the Author: Steve Berardi is a naturalist, photographer, computer scientist, and founder of PhotoNaturalist. You can usually find him hiking in the beautiful mountains and deserts of Southern California.