Adding contrast to a landscape photo is one way to make it a more compelling image. When we think of the word "contrast" we usually think about contrasting colors or brightness. But, there's also another type of contrast that you can capture in your images: subjective contrast.
Here's a quick look at the different types of contrast and how you can capture them in your images:
Color Contrast
The most common way of adding more contrast to your images is photographing a scene with strong contrasting colors. With landscape photography, this is usually pretty easy to do around the "golden hours" — where you'll likely have some of your scene in the shade while the rest of the scene is extra saturated with that warm light of sunrise or sunset.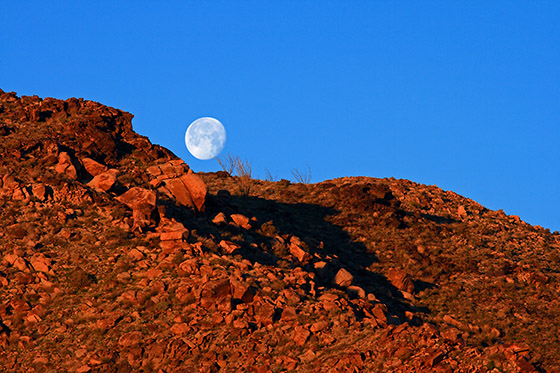 For example, the image above shows strong color contrast between red, white, and blue. The rocks were red in this scene because of the warm light of sunrise. And, this red contrasts well with the blue sky. If I waited until later in the day to photograph this scene, then those rocks would have been brown (which doesn't contrast as well with the blue sky).
Brightness Contrast
Another way to add contrast to your landscape images is to photograph a scene when there's a strong variation of brightness levels. This is the perfect situation for black and white images, because converting an image to black and white helps de-emphasize color and at the same time it strongly emphasizes differences in brightness.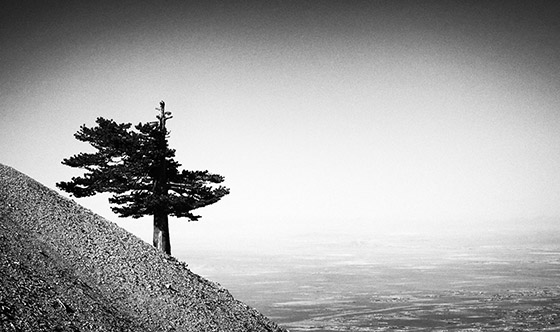 For example, in the image above there wasn't much color contrast in the original scene, but there was a strong difference in brightness between the tree and sky. So, I decided to emphasize that contrast by converting the image to black and white (the blue sky became white and the green tree turned black).
Subjective Contrast
The least obvious type of contrast is "subjective" contrast. This simply means that you have at least two subjects in your image that contrast with each other.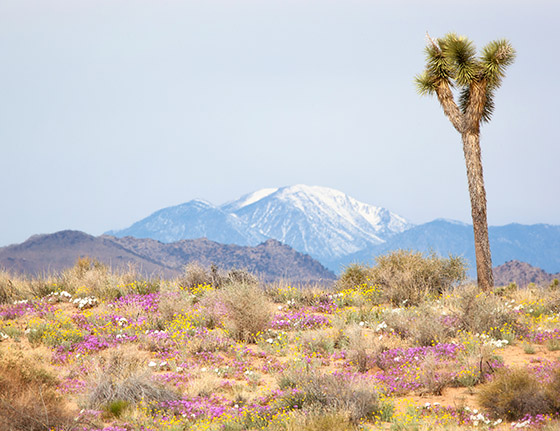 For example, the image above shows subjective contrast between two seasons: spring and winter. In the foreground, you can see a bunch of wildflowers that are blooming in the desert (representing spring). And, then in the background you can see a distant mountain covered in snow (representing winter).
What did I miss?
Is there another type of contrast that you like to capture in your landscape images? If so, please share it with us by leaving a comment below, thanks! 🙂
---


About the Author: Steve Berardi is a naturalist, photographer, software engineer, and founder of PhotoNaturalist. You can usually find him hiking in the beautiful mountains and deserts of southern California.