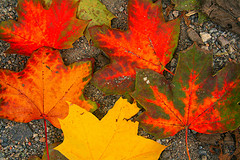 Now that we're almost in the middle of October, many of the trees in the US are bursting with color as their leaves fall off for the winter. Unfortunately, those colors don't last long and sometimes they're better in one area than they are in another, so it's important to choose your locations carefully.
Luckily, there's a great tool that can help you track seasonal changes like fall color: Flickr. Although it's known for being a great website for sharing your photos, it can also be a great scouting tool. Here's how:
If you go to the advanced search page, you'll be able to search with words AND dates. So for example, you can search for photos that are tagged with "leaves wisconsin" AND were shot after October 3rd, 2011.
This is tremendously useful because it allows you to visually see what the colors are like at a certain location, and that can help you decide if it's worth a visit or not. Of course, not everyone tags their photos with the location's name, but you can usually find a good daily supply of photos from any semi-popular nature preserve. Or, you can also try searching by county or city.
Flickr is great for tracking other seasonal changes too. I use it very often in the spring to help me decide where to go for wildflowers, and I've also used it to track the flow of waterfalls that are fed primarily by snow melt.
How do YOU find good locations for seasonal changes?
If you've found another way to track seasonal changes like fall color or spring wildflowers, please tell us about it by leaving a comment below!
If you enjoyed this article, and would like to read more, please signup for free updates by email or RSS.
---


About the Author: Steve Berardi is a naturalist, photographer, computer scientist, and founder of PhotoNaturalist. You can usually find him hiking in the beautiful mountains and deserts of Southern California.