One of the common problems you'll run into while using a wide-angle lens with a polarizer is a partly washed out sky. The photo on the left illustrates this ugly problem.
It happens because the polarizer works better on some parts of the sky than others. And, since you're capturing such a wide part of the sky with a wide-angle lens, you're almost always going to run into this problem.
Sure, you could avoid this problem all together by not using a polarizer on a wide-angle lens, but then you wouldn't be able to take advantage of the other great benefits of the polarizer: reducing unwanted reflections, and saturating colors.
So, what should you do? Well, fortunately there's a pretty easy fix using the burn tool in Photoshop:
Open your image in Photoshop
Duplicate the background layer by clicking on the layer in the layer window and then go to the "Layer" menu on top and select "Duplicate Layer…" (Duplicating the layer is helpful so you don't have to worry about messing up your original image)


Select the "Burn" tool in the toolbar (see picture on right, it looks like a hand making the shape of an "o").

Set the size to about the height of the sky

Set the hardness to about 30%

Set the range to "midtones" (this works well on the sky), and exposure to about 30%.

Hold down the left mouse button and draw over the washed out area, being careful not to overlap your strokes.

Draw over the area again to make it even darker, and adjust any of the values as needed (to make the burn stronger, try increasing the "exposure" percentage).
Here's a side by side comparison of before and after photos: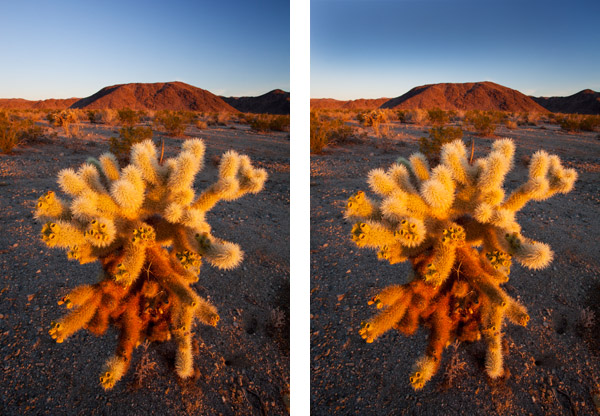 If you enjoyed this article, and would like to read more, please signup for free updates by email or RSS.
---

About the Author: Steve Berardi is a naturalist, photographer, computer scientist, and founder of PhotoNaturalist. You can usually find him hiking in the beautiful mountains and deserts of Southern California.