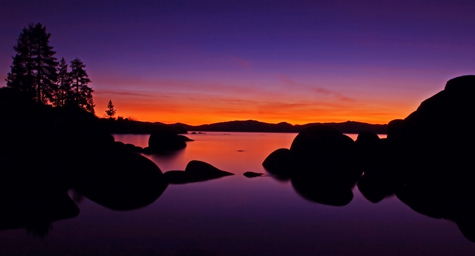 The photo above was taken at Sand Harbor, Lake Tahoe (Nevada). This area is known for those large rounded rocks that seem to have just been thrown onto the lake. It's a wonderful place to watch the sunset because you'll see some beautiful reflections on the the torquise water of Lake Tahoe.
There were three keys to getting this photo:
Wait until well after sunset. The really dramatic colors of a sunset usually don't occur until well after the Sun actually sets. This is especially true when there's cloudy skies. The photo above was taken about 30 minutes after sunset.
Use a very long exposure. In order to get the water looking smooth, and to capture the reflection of the sunset, you need to use a very long exposure. And by "long" I mean 30 seconds or more. To get a long exposure like this, you'll need to:
Switch to full manual mode
Set the exposure to "bulb"
Press the shutter once to start the exposure
Wait about 30 seconds
Press the shutter again to stop the exposure
You may have to experiment with different exposure times between thirty seconds and a few minutes.
Turn on noise reduction for long exposures. With super long exposures, there's a huge increase in the amount of noise, but don't worry–your camera should have a noise reduction option for long exposures. Make sure you turn this on for a photo like this.
Technical Details of the Photograph