Shooting photos quickly is one of the keys to success for some types of nature photography, like photographing birds in flight, or any kind of wildlife photography.
As my dad illustrated in one of his articles, shooting just a few more frames per second can really make a difference in your success rate.
If you're not maximizing the burst rate of your camera when you're photographing a high-speed action, then you risk missing the shot where your subject is in the perfect pose.
So, here are a few ways to ensure your camera is shooting photos as quickly as possible:
Use the Fastest Memory Cards Your Camera Can Support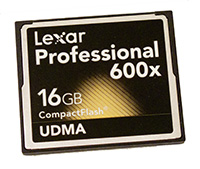 Not all memory cards are made equal–some are faster than others. So, to ensure your camera is shooting as fast as possible, it's important to use the fastest memory cards it can support.
You can usually find this information in the technical specifications of your camera (check your manufacturer's website), or sometimes it's in the manual too. The main thing you want to pay attention to is whether or not your camera supports UDMA, and if so, what level (e.g. UDMA 4, 5, 6).
If your camera supports UDMA-5 cards, for example, then make sure you get memory cards that also support that level. This is important, because if you stick a UDMA-6 card in a camera that only supports up to UDMA-5, the card will still work, but it won't be faster than a UDMA-5 card. You can save some money by only buying the fastest cards your camera supports.
Check Out Speed Tests For Different Memory Cards
One of the weird things about memory cards is that some cards are faster on specific cameras than others. So, the best way to find the fastest memory card available for your camera is to look for some speed tests on the Internet.
Make sure you find a test that is specific to YOUR camera though, because although the Sandisk Extreme Pro might be the fastest card on one camera, it might be one of the slowest on another camera.
If you use a Canon or Nikon camera, check out Rob Galbraith's excellent database of memory card speed tests (see if your camera is included in that drop-down list in the upper right corner of the page). He also has a test for Canon's 7D which hasn't been added to the list yet (notice how in this test, the fastest card for the 7D is the Lexar 600x, but the fastest for the Nikon D300s is the SanDisk Extreme Pro).
Enable High-Speed Shooting
Some cameras have a special mode you have to use for high-speed shooting, so make sure this mode is enabled. It's usually in the menu where you select the drive mode (e.g. single shooting, high speed, or timer/remote shooting), but check your camera's manual to be sure.
Only Shoot Photos in One Format
Most digital SLRs have the option of shooting in both RAW and JPEG at the same time (usually labeled in the camera as "RAW+JPEG"). Although it may be tempting to use this option so you have a bunch of JPEGs that you can use as "quick look previews," it significantly slows down the camera and will decrease the amount of frames per second you capture.
So, to ensure your camera is shooting as fast as possible, only shoot in JPEG or only shoot in RAW (check out this previous post for pros and cons of each format).
What did I miss?
If there's another little trick you've discovered that helps your camera shoot faster, please share it with us by leaving a comment below. Thanks! 🙂
If you enjoyed this article, and would like to read more, please signup for free updates by email or RSS.
---

About the Author: Steve Berardi is a naturalist, photographer, computer scientist, and founder of PhotoNaturalist. You can usually find him hiking in the beautiful mountains and deserts of Southern California.