One of the common goals of a landscape photograph is to show depth—either to show the viewer how vast a landscape is or to help lead the viewer's eye from the foreground into the background.
You might think that adding depth is as simple as using a wide angle lens, but it's a little more subtle than that.
Here are a few ways to show depth in a landscape photo:
1. Focus on elements that lead the viewer's eye
The general thing to remember with capturing depth in a landscape is to focus on elements that naturally lead the viewer's eyes through all dimensions of the landscape. This could be things like a fallen tree that points towards the back of the frame and leads the eye to the base of a mountain, or a stream that serves a similar purpose.
When you lead the viewer's eye through the frame like this, it makes the viewer feel like they're traveling through the image—which translates to a feeling of depth.
For example, in the image above, there's a natural path that starts wide in the bottom of the frame, and gets narrower as it moves back in the frame. This helps give depth to the image.
2. Get above the landscape
One of the simplest ways to add depth to a landscape is to get above it. Look around for big rocks you can stand on or see if there's a short hill nearby (please be careful not to disturb any plants though). Or, if you're photographing a landscape from the road, you can do what Ansel Adams did: just get on top of your car!
Getting above the landscape helps give you a wider view of what's below. Think about the difference between seeing a city while standing on the street vs seeing it from the top floor of a skyscraper. Neither view is necessarily "better" than the other, but the view from up high in the skyscraper would show more vastness to the city.
In order to show the wide open space of the Mojave Desert in the photo above, I shot the photo from a small hill — I was about 4-5 ft above the landscape.
3. Photograph your subject from an angle
If your image focuses around a single large feature, like an interesting rock formation or canyon, then one thing you can do to show depth is photograph it from the side at an angle.
For example, compare these two images of one of my favorite canyons in the Mojave Desert: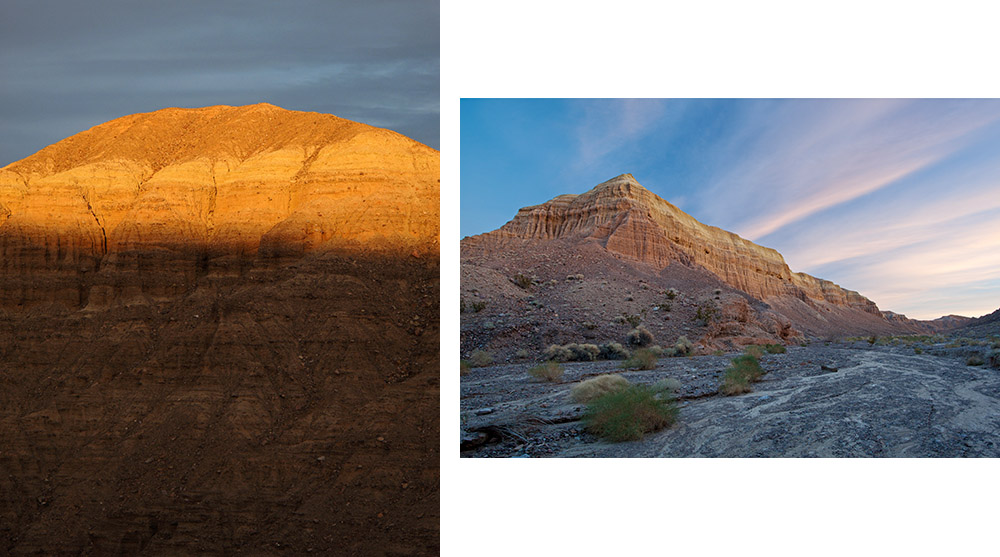 The first image is a direct shot of the canyon walls — my camera's sensor for this image was parallel to the wall of the canyon. In the second image, I switched to a wide angle lens and looked down the canyon at an angle — this helps show depth because as the canyon walls get farther in the background, they also get smaller.
4. Include lots of near, mid and far objects
Depth is another word for deep, so in order to show depth, you want to capture a lot of space. One simple rule of thumb to do this is to make sure you include a variety of near, mid and far objects.
This works even better if you have similar objects at different distances, because the human eye knows these objects are the same but sees them getting smaller as they move back in the frame and that makes the viewer process the scene as three dimensional. Like in this photo:
If instead you just have near and far objects, the image will have less depth because the viewer will have less space to look and travel through. It'll seem like there's a sudden "jump" in the image from near to far.
These are just guidelines, you don't always need depth
It's important to remember that you don't always need depth in a landscape image. Sometimes that might not be the message you're trying to send with a photograph — and that's ok! Personally, I photograph a lot of distant landscapes with telephoto lenses, and these naturally show very little depth (not a bad thing at all).
But, in those cases where you DO want to show depth and communicate to the viewer how vast and open a space is, then consider some of the ideas listed above. You don't need to include them all, just use what works for your vision.
What did I miss?
Do you have another way of showing depth in a landscape image? If so, please share it with us by leaving a comment below. Thanks!
---

About the Author: Steve Berardi is a nature photographer, software engineer, and founder of PhotoNaturalist. You can usually find him hiking in the beautiful mountains and deserts of southern California.