Light is something you have very little control over in nature photography, but it has a big effect on the look of your photographs so it's important to understand how different lighting conditions will affect the look of your photograph.
Here's a short intro to the different types of light you'll experience, along with a few ideas of what to photograph in each type of light:
Clear Skies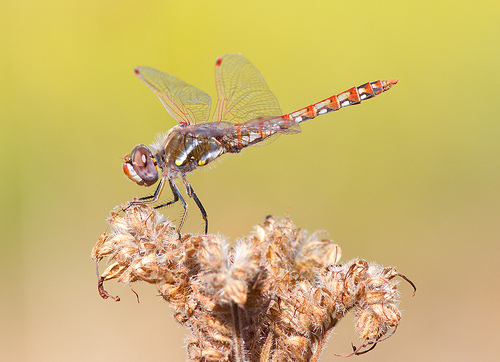 Clear skies produce the brightest and most harsh natural light. Without any clouds in the sky to soften the light, the sun will shine brightly on everything and create harsh shadows (shaded areas will be extra dark).
This usually makes exposure difficult for things like wildflowers because your camera cannot capture that wide range of brightness (everything from the bright colors of the flower to the dark colors of the shadows).
So, if you're shooting in bright sunlight, then it's important to be aware of these harsh shadows and compose your shots to avoid them (unless of course you want them in your scene).
Clear skies are great for times when you need a fast shutter speed, because there's always plenty of sunlight available. They're also great for capturing dark shadows, which is helpful for photographing jagged mountains or hills because it helps emphasize texture and depth.
Overcast
Overcast skies produce the softest and most diffused natural light. Under these conditions, there's virtually no shadows, so the light on your subject will be very balanced (which usually makes colors stand out more). This is great for photographing things like wildflowers or any kind of close-ups where you want to emphasize color over depth.
Partly Cloudy
Partly cloudy skies are kind of a mix between clear and overcast skies. When the sun sneaks behind a cloud, you get a somewhat diffused light (but not as strong as you'll see under completely overcast skies). These conditions are good for when you just want a slightly diffused light (great for photographing perched birds or insects).
However, it's also annoying to photograph stuff under partly cloudy skies because you'll have to constantly adjust your exposures as the sun peaks in and out of clouds.
Shade
Shade produces balanced light that's similar to overcast skies. But, colors usually don't stand out as much under shade as they do with overcast skies. Shade is usually much darker than overcast conditions, so it also means longer shutter speeds (which can become an issue when you're photographing something that's moving). Sometimes it's good for wildflowers or anything that's not moving (allowing you to use longer shutter speeds and still get sharp photos).
Sunrise
Sunrise tends to produce a somewhat cold light (i.e. sunrise colors usually have more of a blue tint than sunset colors). It's an excellent time to capture some stunning colors in the sky, especially if the clouds cooperate. Also, once the sun has risen, you have about a 15-minute window to capture some excellent light on the landscape. In these first 15 minutes after sunrise, the sunlight casts a very warm light on the landscape, which really helps saturate your images.
Sunset
Sunset tends to produce a warm light (sunset colors are usually more red than sunrise colors). Like sunrise, it's also an excellent time to capture some awesome colors in the sky. And also like sunrise, when the sun is low on the horizon, it casts a very warm light on the landscape, which is great for capturing powerful landscape images.
Moonlight
Moonlight is an often overlooked type of light, but it's another lighting condition you should consider because it produces a very unique look. A landscape that's lit by the moon will have a bluish tint and it'll have an eerie look to it (great for photographing desert scenes!). If you photograph a landscape when the moon is still somewhat low on the horizon, then you'll also get some nice shadows in your image.
You might think that the best time to photograph a landscape under moonlight is on the night of a full moon, but you might also want to experiment with nights where the moon is only partly full. This will help you capture more stars in the sky, because as the moon gets more full it also makes it harder to see (and photograph) the stars.
What did I miss?
Is there another lighting condition that you think I missed? Or, is there something you like to photograph in a specific lighting condition? If so, please share with us by leaving a comment below, thanks! 🙂
---


About the Author: Steve Berardi is a naturalist, photographer, software engineer, and founder of PhotoNaturalist. You can usually find him hiking in the beautiful mountains and deserts of southern California.