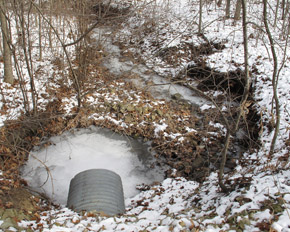 It's the dead of winter, you live in an area that doesn't have classic winter scenery, then you look outside and see that it's cold and dreary. The last snowfall was at least a week ago, so taking photos with beautiful fresh snow in the background or foreground isn't an option. So, you decide to stay home and wait for a better day…you shouldn't. There are opportunities out there on any given day to take nature photos, if you just look hard enough.
A couple of weeks ago I ventured out on such a day and after becoming exhausted at trying to find something to photograph, I happened to drive over a small creek and stopped to look and see if any water was moving. There wasn't but something else caught my eye: autumn leaves & ice! I pulled over to the side of the road, got out with my camera and tripod and slowly looked at all the small scenery along this very small and mostly frozen creek. What I saw was limitless in compositions and beauty!

This photo was taken with a Canon 60D, Canon 70-200mm (@ 125mm) on a tripod with settings of ISO 200, f11 @ 1/60 second:
If you want to get even more creative, the possibilities become even greater such as in this next photo that I shot with three separate exposures and processed in the Photomatix Pro 4.2 HDR software. I used the same equipment and settings as above but this time the focal length was at 160mm.
But this type of photography doesn't require you to use a DSLR and tripod. Beautiful handheld shots with a good point & shoot are easily accomplished. This last photo was taken with my Canon G12 handheld at ISO 200, f5.6 @ 1/30 second:
If you look closely at this photo you might just see some interesting shapes!
So, when the weather is bleak and you don't think there's any photo opportunities out there, give this a try. You don't need a lot of time either. Spend an hour doing this at a nearby creek or even a drainage ditch for that matter and then go home, brew up a cup of hot coffee and spend the rest of the day post processing your images!!
---

About the Author: Vic Berardi is a raptor lover that lives in the Midwest. He is the founder of the Illinois Beach State Park Hawk Watch and every weekend of the year you'll find him searching for hawks and photographing them. Several of his photographs have been published in a leading raptor journal and in articles he has written. During the year he gives presentations teaching others about hawks and hawk migration. Vic also photographs dragonflies and wild flowers and is always respectful of nature and its creatures.