After watching and photographing a lot of sunsets, it's tempting to start thinking that you can look at the sky and predict how good a sunset will be a few hours before it happens.
You might see a bunch of thick and dark gray clouds up there, and think, "well, the sunset is gonna suck tonight, so I might as well just go home early."
Or, you might even be in the middle of photographing a sunset and you think the colors just peaked, so you start packing up your stuff and walk towards your car or campsite.
But, then out of nowhere, the sky decides to explode with color again. Of course, you're half way back to your car by now, so you quickly setup your camera, but before you can press the shutter button, the colors fade away again. And, this time they're gone for good.
Sound familiar?
Don't worry, it's happened to me lots of times 😉 But, today I'm making a vow to never give up on a sunset again, and I hope you will too. No matter how dark and gray the sky looks, there's always hope left in a sunset.
Okay, maybe the one exception here is if it's pouring rain outside or completely overcast 30 minutes before sunset.. then it's probably safe to say it's gonna be a dud 😉
Sometimes there's that tiny break in the clouds that you just can't see–and it's just sitting there waiting to produce some of the most incredible colors. You just have to be patient.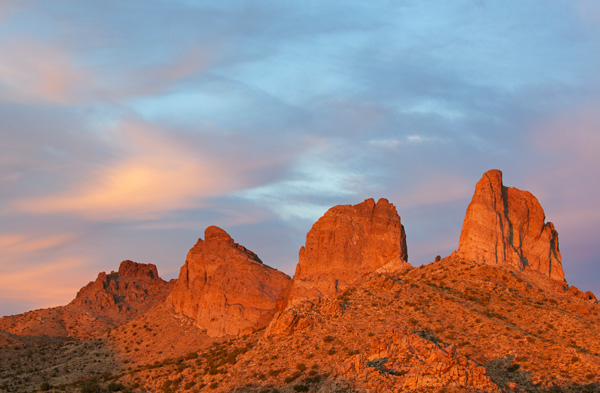 For example, after I shot the photo above in the Mojave Desert, the colors in the sky started to fade to a dull gray. So, after the sun finally set and the sky turned completely gray, I thought the show was over.
But, it wasn't. About five minutes later, a bunch of clouds started to turn purple and pink, so I quickly setup my camera again and was able to capture this shot before the show finally ended:
Lesson learned: never give up on a sunset!
"You only get one sunrise and one sunset a day, and you only get so many days on the planet. A good photographer does the math and doesn't waste either."
–Galen Rowell
If you enjoyed this article, and would like to read more, please signup for free updates by email or RSS.
---


About the Author: Steve Berardi is a naturalist, photographer, computer scientist, and founder of PhotoNaturalist. You can usually find him hiking in the beautiful mountains and deserts of Southern California.