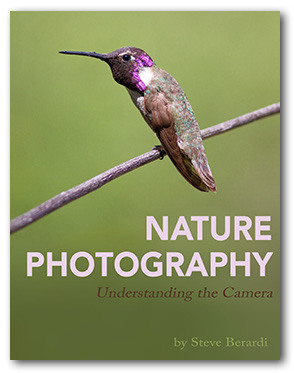 Today, I'm very excited to announce the release of my new eBook, Nature Photography: Understanding the Camera. This eBook will teach you how to use your camera to photograph the wonderful moments you observe in nature. It covers all types of nature photography, including landscapes, wildlife, and close-ups.
I've been working on this eBook for years, and the reason it took me so long to write this book is that it was hard deciding what to include, what to leave out, and thinking of the best ways to explain some of the more complex aspects of the camera.
The concepts in this book apply to any kind of manual digital camera (any camera that allows you to change the aperture, shutter speed, and ISO), but many of the concepts apply to all types of cameras. The goal of the book is to give you complete creative control of your camera, without getting too technical.
Here's a list of topics you'll learn about in the book:
How a Camera Works
Aperture, Shutter Speed, ISO – what they all mean and how they affect the look of your photos
Exposure – how to get the perfect exposure using the histogram,
and an explanation of dynamic range
Focus – focusing modes, where to focus, how to make autofocus work better
Depth of Field – how to get the depth of field you're looking for, understanding what affects depth of field
Sharpness – how to get sharp photos
Perspective – how perspective changes the look and feel of your photos
Light – how different lighting conditions affect your photos,
and how to control the light
Composition – how to compose your images so they communicate the message you're trying to send
Lenses – overview of focal lengths, and other things you should know about lenses (such as minimum focus distance)
Memory Cards – what all those numbers mean, and how to keep your memory cards safe
Accessories – overview of useful accessories for nature photography (like filters and extension tubes)
Camera Settings – explanation of various camera settings you should know about (such as mirror lock-up and burst shooting modes)
Respecting Nature – how to respect nature and leave no trace
At the end of the book, there's also eight example photos along with explanations of how those photos were made—bringing together all the concepts of the book.
The eBook is 108 pages, and is delivered electronically as an Adobe PDF.
Free Preview – How to Get Sharp Photos
You can check out the table of contents and read the chapter on sharpness by downloading the free preview:
Get the eBook now for just $19.95!
If you have any trouble downloading the ebook, please contact me.
For details on our affiliate program, please visit our affiliate page.
---

About the Author: Steve Berardi is a naturalist, photographer, software engineer, and founder of PhotoNaturalist. You can usually find him hiking in the beautiful mountains and deserts of southern California.