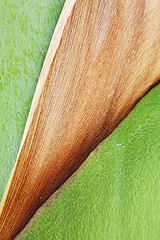 In a previous post, I talked about something you could do when you need inpsiration: look at a ton of photos.
Well, if you've already tried looking at a hundred photos, and still don't feel that creative energy kicking in, then there's something else you can try that I just recently discovered:
Limit yourself to just one lens and one camera body.
So, instead of taking all your lenses (or even just a couple) on your next hike, just take ONE. And, preferably choose a prime lens (a lens with a fixed focal length), so you eliminate even more variables.
The idea behind this exercise is that limitations force you to be creative: they force you to think of interesting solutions to problems. For example, wildflowers are typically shot with a long telephoto lens to help isolate them from a background, but if all you had was a wide angle lens, you'd be forced to think of an interesting way to use that lens to get a good photo.
Another benefit of limiting yourself like this, is that it helps you focus on particular types of photographs. For example, if you choose to limit yourself to a 100mm Macro lens, then you'll mainly be thinking about macro shots.
One of the most popular lenses to use for this exercise is the normal 50mm lens, but feel free to choose any of your lenses. I've found it works best if you choose a lens you don't normally use very often.
If you've already tried this exercise, please tell us about your experience by leaving a comment below. Did it work for you? What did you learn? What lens did you pick?
If you enjoyed this article, and would like to read more, please signup for our free email newsletter.
---


About the Author: Steve Berardi is a naturalist, photographer, software engineer, and founder of PhotoNaturalist. You can usually find him hiking in the beautiful mountains and deserts of southern California.