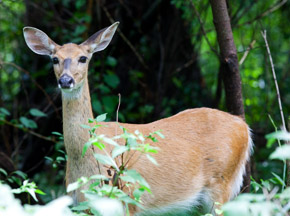 One of the most difficult parts of wildlife photography is spotting your subject. Most wild animals tend to stay away from us humans, so it often requires a lot of patience to actually encounter them.
Well, a few weeks ago I took a survival training course and learned something that might increase your chances of spotting some wildlife:
Many animals are highly active immediately before and after a storm.
Or, more specifically: animals become more active whenever there's a sudden change in barometric pressure.
So, if you go out hiking right before (or after) a big storm, you're much more likely to see wildlife. Many animals are moving around at this time so they can find better shelter for the coming storm. Somehow, they can sense that a storm is coming.
I don't encounter many storms here in southern California, but I remember a couple years ago when I was in the desert right before a huge storm rolled in. I remember seeing a ton of wildlife that day, including a large group of short-eared owls.
Of course, storms always come with thick dark clouds, so if you choose to photograph wildlife before or after a storm, you'll have to deal with some low light conditions (try increasing your ISO to 400 or 800, and use a wider aperture).
But, storms also come with interesting lighting conditions for landscapes (especially when the Sun finds a way to sneak through some of those thick dark clouds). If you're lucky, maybe you'll even get to capture a rainbow.
So, next time a storm rolls into your neighborhood, don't cancel your hiking plans! It might be a great time to spot some wildlife and catch some dramatic lighting for landscapes 🙂
As always, please be safe though. Respect wildlife, and prepare for any inclement weather (especially flash floods, which can be much more dangerous than they look).
Btw, if you're interested in taking a survival training course, I can highly recommend Tony Nester at Ancient Pathways. I've read a few of his books (which are also great), and I just took his 3-day "complete survivor" course, where I learned a ton of useful information about making fire, procuring and preserving food, tracking, and more.
What did I miss?
If you have another tip for spotting wildlife, please share it with us by leaving a comment below. Thanks! 🙂
---


About the Author: Steve Berardi is a naturalist, photographer, software engineer, and founder of PhotoNaturalist. You can usually find him hiking in the beautiful mountains and deserts of southern California.