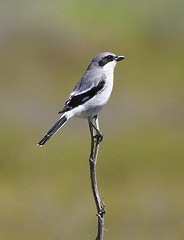 One of the things we're commonly taught about photographing wildlife is to always isolate your subject by making the background completely out of focus (like in the photo on the right).
This helps the viewer immediately focus on the subject, but should that always be your goal?
When you choose not to isolate your subject against it's background, you can reveal much more about your subject (such as it's habitat, size, what it might be doing at the moment, etc).
Here are a few examples to help illustrate what I mean:
Red-shouldered Hawk perched on a tree
When I first saw this Red Shouldered Hawk, I really wanted a photo where the background was completely out of focus, so all the viewer really saw would be the hawk and the branch it was perched on. I knew I was much too far away to get this kind of shot, but I took a photo anyway because this was the first time I saw a red shouldered hawk 🙂
When I looked at the photo later when I got home, I actually changed my mind and decided I liked the shot better this way (with the background somewhat in focus). Here's why: it helps show how much the hawk has adapted to his surroundings and blends in with his background. If the background was completely out of focus, this effect wouldn't have been illustrated very well.
Having the background just slightly out of focus also helps paint a picture of the hawk's habitat, whereas a totally isolated hawk would just look like a big bird in front of a mysterious out of focus background.
Allen's Hummingbird Perched on Ocotillo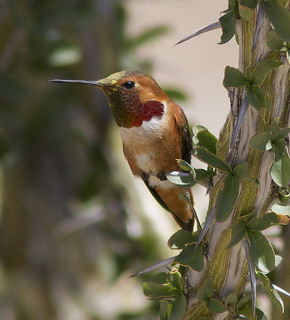 When I first saw this Allen's hummingbird, I had a vision of photographing it perched on this Ocotillo, but with the blue sky in the background instead of more Ocotillo. I waited around for about an hour, hoping it would land where I wanted it to, but it just kept perching low to the ground.
So, I finally just snapped a few photos anyway. Just like the hawk photo above, I didn't like this shot at first, but then later changed my mind and thought this was a good photo for similar reasons: it helps show the environment of the bird. With all that pollen on the hummingbird's head, the viewer might even assume (correctly) that it's been busy gathering nectar from Ocotillo flowers all day 🙂
What do you think?
Agree? Disagree? Please share your thoughts with us by leaving a comment below. Thanks! 🙂
---


About the Author: Steve Berardi is a naturalist, photographer, software engineer, and founder of PhotoNaturalist. You can usually find him hiking in the beautiful mountains and deserts of southern California.