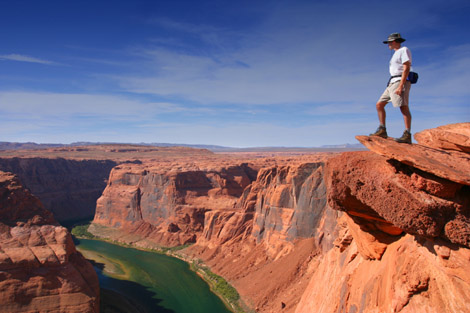 Have you ever seen the movie Ferris Bueller's Day off? One of my all time favorite quotes is at the end of this film when Ferris says,
"Life moves pretty fast. If you don't stop and take a look around once in awhile, you could miss it."
Bueller wasn't a naturalist (or a photographer), but I think his advice is the key to enjoying nature.
In our modern world of cell phones, next day shipping, and instant access to just about anything, it's really hard sometimes to take a break and escape this "on demand" attitude.
But, to really enjoy nature and see all of its beauty, you have to look through patient eyes. You have to stop and take a look around once in awhile.
Here's a short story to help illustrate what I mean:
When my sister came to California for a visit last summer, we decided to go hiking on one of my favorite trails in the San Gabriel Mountains. It's a fairly secluded trail with lots of mountain views along the way, and just barely far enough from the city to make you forget about concrete for a second 🙂
We hiked for about four or five miles, enjoying the scenery and the various lizards that roam around the California chaparral. By the time we got to the end of the trail, we were ready for a break, so we veered off the trail a little bit and sat on a few rocks next to a stream.
The stream is primarily fed by snow, which had long been melted, so the water flow was pretty weak. But, the dwindling stream allowed us to witness an amazing event: hummingbirds taking turns sipping water from the stream.
There was always one hummingbird drinking, while 3-4 hovered ("waiting in line") about a foot above the stream. As soon as one was done, the next would drink, and so on.
We watched them for as long as we could, and then headed back up the trail as the sun was going down. I didn't have my camera with me, but returned the following weekend and was able to get a couple good photos:
The point of the story is that we never would have witnessed these beautiful birds if we didn't stop and take a look around. If we just zoomed through the trail, we would've missed them.
When walking down a trail, you quickly scare away all kinds of wildlife, even if you try to be as quiet as possible. But, if you stop and take a look around for awhile, a lot of that wildlife you just scared away will come back.. And, sometimes they'll even let you take a photo of them 🙂
So, if you get a chance to go for a hike this weekend, try to leave the modern day "on demand" attitude at home, and just enjoy what nature presents. Patiently.
---

About the Author: Steve Berardi is a naturalist, photographer, computer scientist, and founder of PhotoNaturalist. You can usually find him hiking in the San Gabriel Mountains or the Mojave Desert, both located in the beautiful state of California.