Ever wonder why some photographers see things that you don't? True, there is some degree of "right brain" thinking going on with the more experienced photographer, but I think there's more to it than just that.
What's most important is perseverance and taking a second look at your subject.
For example, consider the photo below: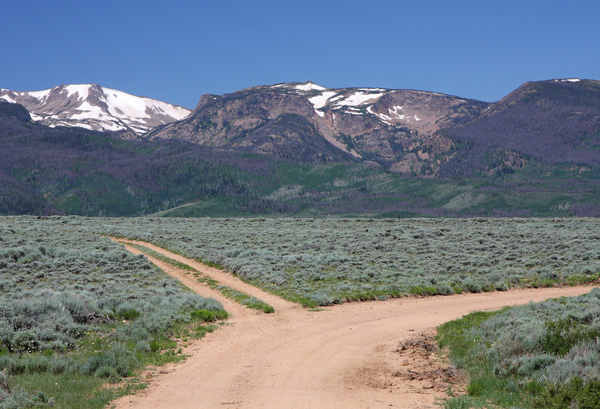 When I first came upon this scene, I immediately saw an image that illustrated Robert Frost's poem "The Road Not Taken." The road on the left, the lesser traveled one looks less developed, while the road going to the right shows a well traveled path. I won't get into the full meaning of the poem here, but that's what I wanted to communicate. This photo is sharp, exposed properly and has decent composition. But, it lacks something. It is, however, how most people would photograph the scene and leave it at that. It was taken shortly before noon with a polarizing filter to bring out the blue sky better.
After taking that first photo, I thought that it was the best I could do until a few hours later when I noticed a dark bank of clouds building far beyond the mountains. Knowing these would soon intensify, I drove back to the same spot and the lighting was much more dramatic:
This photo shows the element that was lacking in the first: an air of mystery of the unknown. Now the road on the left looks more menacing and uncertain. So, referring back to the poem's meaning, most would take the road on the right, not the left. But, of course Frost proclaims, "I took the one less traveled by, And that has made all the difference."
If you enjoyed this article, and would like to read more, please signup for free updates by email or RSS.
---
About the Author: Vic Berardi is a raptor lover that lives in the Midwest. He is the founder of the Illinois Beach State Park Hawk Watch and every weekend of the year you'll find him searching for hawks and photographing them. Several of his photographs have been published in a leading raptor journal and in articles he has written. During the year he gives presentations teaching others about hawks and hawk migration. Vic also photographs dragonflies and wild flowers and is always respectful of nature and its creatures.