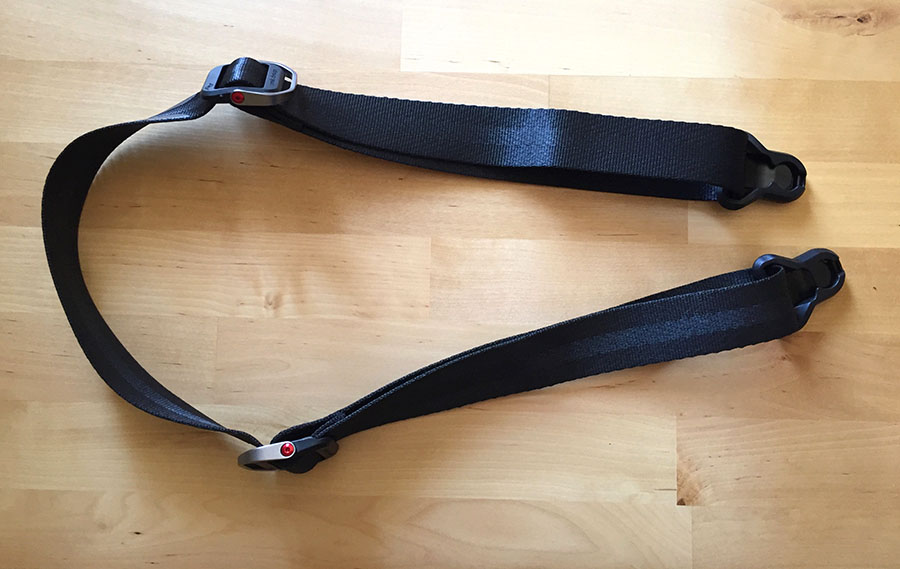 In photography, all the gear talk usually revolves around cameras and lenses. The lonely camera strap never gets much attention.
But, the camera strap is pretty important in nature photography, because it needs to allow you quick access to your camera and needs to be comfortable (and strong enough) to support larger lenses that are common in nature photography.
I've tried all kinds of camera straps in the last ten years, and was never really satisfied with any of them until last year when I finally found the wonderful straps made by Peak Design.
There are a lot of things I love about their camera straps, but the one thing that really stands out to me is how freely they move. They're made out of that same material as the seatbelts in your car, so the strap slides across your clothes super easily. This is great for nature photographers because we always need quick access to our camera in case we're walking around and see a butterfly land on a flower (it won't be there for long!).
The other great thing about Peak Design straps is that they use this quick-connecting anchor system that makes it easy to detach and re-attach your camera. Here's a close-up that shows this: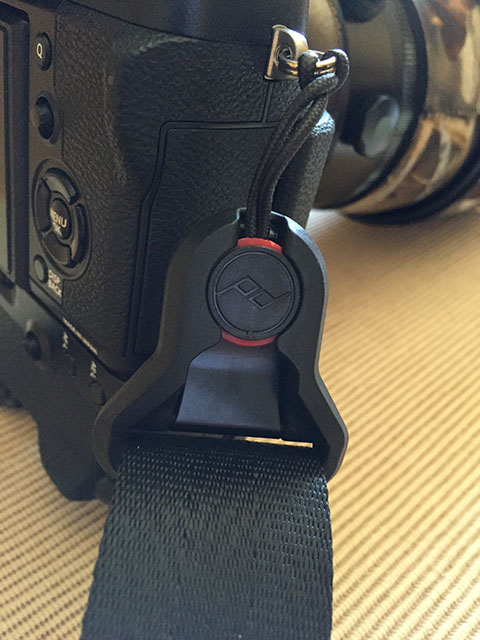 All you do to detach the camera is press down on that round anchor that says "PD" on it and then slide that up out of the slot.
I've tried a bunch of other straps that attempted to solve this problem of making it easy to attach/detach your camera, but I never fully trusted them because they all had those squeeze type clips like this:
I was always worried I'd accidentally bump the clip into something that would send my camera flying. But, the locking system on Peak Design straps feels really secure to me. There's no way you'll accidentally detach your camera from the strap unless you really want to—and the amazing thing is that it's not overly difficult to detach the camera either. It's the perfect balance.
The unique anchor system on these straps also allows you to wear the strap in a lot of different ways. For example, as nature photographers, it's common for us to walk around with a long lens and the Peak Design straps allow you to easily and comfortably keep the camera at your side by attaching one of the anchors to a plate on the bottom of your camera. Here's a photo that shows what I mean:
It's hard to explain how much more comfortable it is to walk around like this, instead of having both ends of the strap attached to the top of the camera. When both ends of the strap are attached to the top, it's like the camera keeps wanting to adjust its position as you walk (especially when using a battery grip), but with one on the bottom the camera just stays comfortably at your side.
The designers and engineers at Peak Design put a lot of careful thought into these straps. After you start using them, you'll ask yourself, "why didn't anyone think of this before?!?"
They are more expensive than other camera straps, and at first I was really skeptical of this. I was used to paying $20 or less for a camera strap, so when I saw theirs at $50, I had some hesitation. But, I'm glad I ended up trying them, because they make it much more comfortable to carry my camera when I'm out hiking all day. And, since they have such a good attachment system, I'm fine with just using one strap for all my cameras—I just share it between them.
They have a few different versions of their straps, so here is an overview of them and what I'd recommend to use them with:
Leash – This is their most minimal strap and it's great for small point-and-shoot cameras or mirrorless cameras (if the lens is shorter than 100mm)
Slide Lite – This one is great for SLR cameras (with up to a 300mm f/4 lens attached).
Slide – Best for SLR cameras with long telephotos (more than 300mm) or if you just want more support, since this strap is about a half inch wider than the Lite version.
If you're interested in buying these straps, I'd recommend buying through B&H with the links above. Using the links in this post will help support the costs of running PhotoNaturalist and keep it free 🙂 thanks!
---

About the Author: Steve Berardi is a nature photographer, software engineer, and founder of PhotoNaturalist. You can usually find him hiking in the beautiful mountains and deserts of southern California.