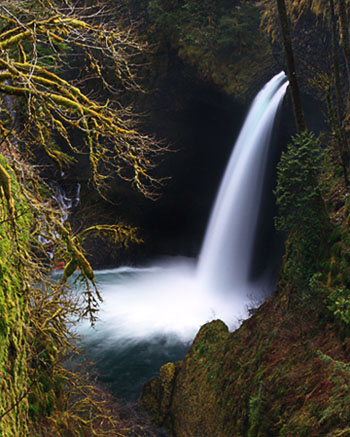 Waterfalls are one of my favorite things to photograph. They're so simple, yet so beautiful. It's usually the immense contrast that attracts me to a waterfall–the color of the white water contrasting with dark rocks and green moss. Together, they create such a pleasing sight!
Some of the same principles of landscape photography apply to waterfall photos as well, but there are a few other things to keep in mind when composing waterfalls:
Shoot at an angle
Most waterfalls look a lot more dramatic when viewed from an angle, rather than straight-on. Naturally, we want to be in the center of everything when we look at it, but before you set up that tripod, walk around the entire waterfall and look through your viewfinder at different angles.
As an example, here's a photo of one of my favorite local waterfalls, Sturtevant Falls (located in Angeles National Forest) that was taken directly in front of the waterfall:
And, here's a photo of the same waterfall, but taken at a different angle:
Can you see the dramatic difference?
Get in closer
Sometimes a waterfall is just too massive to capture it all with a photograph, or it's just too small to have a dramatic look. In either case, try getting in closer and zooming in on a small part of the waterfall, instead of trying to capture the whole thing.
Living in Los Angeles, I'm fortunate enough to have many waterfalls close by, but most of them are just little trickles, like this one (Millard Canyon Falls):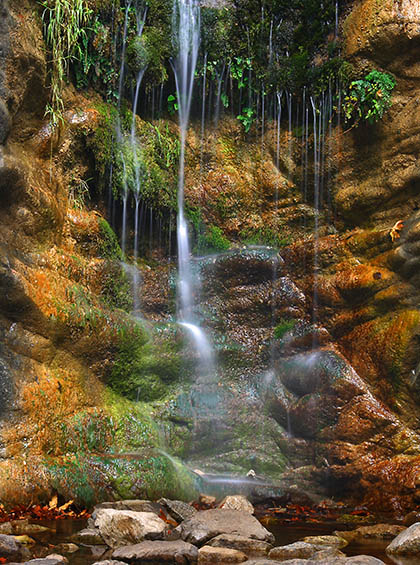 Although I like the photo above, I think this close-up below is much better:
Include foreground elements
In an earlier article I mentioned the importance of a foreground in landscape photographs, and waterfalls are no exception. Most of the time, a waterfall photo can be dramatically improved just by including a foreground.
Here's a photo I took of Wahclella Falls, from the Columbia River Gorge in Oregon:
And, here's a photo of the same waterfall, but with a foreground this time:
Notice how adding a foreground can help add depth, and make the viewer feel more like they're actually there, instead of just looking at a photo.