As nature photographers, we tend to have an obsession with tack sharp photos and will do almost anything to increase the sharpness just a tiny bit. After all, looking up close at a sharp photo of a dragonfly is one of the greatest rewards of photographing the natural world 🙂
But, sometimes it's necessary to sacrifice a little sharpness for a better composition.
As an example, consider the photo above of a Desert Sunflower in front of a patch of Desert Sand Verbena (see original size photo too). There are three reasons why the sunflower isn't as sharp as it could have been:
The wind was blowing pretty hard, and constantly swaying the flower
The camera's sensor was not parallel to the most important plane of the flower
A pretty large aperture was used (f/5.6), which limited depth of field
Of course, the wind was out of my control, so all I could do for that was wait for the calmest moment possible. But, the other two were in my control. Why didn't I address these problems?
Well, if I put the camera in a position where the sensor was parallel to the flower, then I wouldn't have had the all-purple background. It would have been a mixture between green, brown, and a few blotches of purple. All these colors would have distracted the viewer and it wouldn't have created as strong a contrast as the purple alone.
And, if I chose a smaller aperture to get more depth of field, then the background would've been a lot more in focus because it wasn't too far away (only a few feet). I did take a test shot to see what it would've looked like if I increased the f-number by one stop to f/8.0: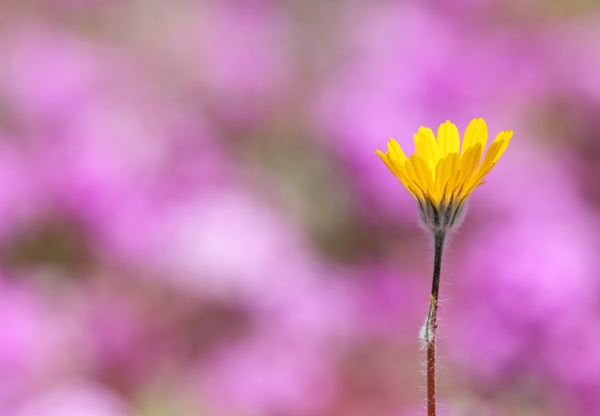 Even just a one stop difference significantly changed the background from a nice seamless purple into a distractingly blotchy background.
Another thing to consider is the final print size you're looking to make. Yeah, my flower photo here would look pretty blurry if printed at 30×20, but if I print smaller, then I can take advantage of sharpening through resizing. With flower photos, I think an 8×10 print is large enough, maybe 16×20 max?
So, consider your composition first, and then setup your shot to maximize sharpness of that particular composition. Don't sacrifice your photographic vision just for a sharper photo.
If you enjoyed this article, and would like to read more, please signup for free updates by email or RSS.

---

About the Author: Steve Berardi is a naturalist, photographer, computer scientist, and founder of PhotoNaturalist. You can usually find him hiking in the beautiful mountains and deserts of Southern California.