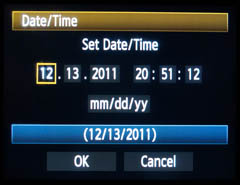 When I first get a camera, I always set the right date and time, but then I usually completely forget about it. A few daylight savings time changes go by, and of course I forget to update the time, so for half the year, my cameras are an hour off.
But, there's also a few other problems: when I first set the clock, I'm usually pretty lazy about it (if a nearby clock says 7:34 PM, I'll just set the camera to 7:30 PM). Also, a lot of digital clocks lose seconds over time, so with a camera that's a few years old, my clock could be off by 5-10 minutes (plus any adjustments for daylight savings).
Why does this matter?
Well, with nature photography, you probably already know that timing is everything.
And, many times it's helpful to review old photos and try to learn from them: trying to figure out what went wrong (or right!), and trying to learn more about how light works and changes throughout different conditions. So, knowing the exact time of the photo can be helpful (five minutes after sunrise is a lot different than 15 minutes after sunrise), it can help you recreate the scene and evaluate it.
Keeping your clocks accurate can be helpful in other situations too. For example, when I went out to photograph the Lunar Eclipse this past weekend, I had two cameras set up: one with a long telephoto lens to photograph the moon by itself, and another camera to just photograph the landscape. Later in post-processing, I wanted to combine two images that were taken at the same time (in order to have a big moon in the landscape image), which would have been a lot easier if both cameras were set to the same time.
So, I've decided to be more diligent with my camera's clocks, and remember to keep them updated.
Where to get an accurate time
You'll get the most accurate time from a GPS receiver, but timeanddate.com should be good enough for our purposes 🙂
If you enjoyed this article, and would like to read more, please signup for free updates by email or RSS.
---


About the Author: Steve Berardi is a naturalist, photographer, computer scientist, and founder of PhotoNaturalist. You can usually find him hiking in the beautiful mountains and deserts of Southern California.