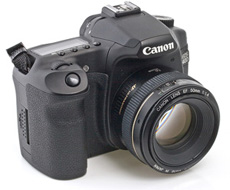 A few weeks ago I had a horrible accident: I cracked the LCD screen cover on the back of my Canon 5D Mk II.
I was carrying two cameras at the time, and wanted to change lenses on my other camera, so I put the 5D on my tripod, and began switching lenses on my other camera. Then, about ten seconds later, my tripod fell backwards (with the 5D still on it), and there just happened to be a big rock where the 5D landed 😉
I sat there staring at my 5D on the ground for about five minutes, terrified of the damage I'd see when I picked up the camera.
Luckily, it was just the LCD screen cover that got cracked (and not the actual LCD screen), so I was able to fix it for about $20 of parts and 15 minutes of my time (thanks to a great tutorial I found).
Of course, the first lesson I learned from this accident was to make sure your tripod is secure before letting go 😉
But, then I thought more about why this accident happened. I realized it was a result of carrying too much gear, because when you have a lot of gear to juggle around, it makes you more prone to mishandling it, or dropping it. This accident made me think about all the times in the past where I've come so close to banging my camera against a rock or having a camera slide off my camera bag.
I've always been worried about limiting the amount of camera gear I carry on hikes, because it might mean missing out on a great photo opportunity. But, for the safety of my gear, I've decided to start carrying less.
And, after carrying a lot less gear around for the last couple of weeks, I've noticed another great benefit: carrying less gear forces you to learn more about the gear you DO decide to bring.
For example, last weekend I just walked around with one camera and my macro lens. So, instead of walking around and "looking for anything interesting to photograph," carrying just the macro lens forced me to think just about photographing close-ups.
Instead of walking around with all your gear (giving you freedom to photograph just about anything), sometimes it's helpful to limit your options to force you to focus on creating a particular type of image.
What about you?
Have you had a similar accident as a result of carrying too much gear? Or, have you found a way to carry a lot of gear, but still balance it all? Please tell us about your experience by leaving a comment below 🙂
If you enjoyed this article, and would like to read more, please signup for free updates by email or RSS.
---

About the Author: Steve Berardi is a naturalist, photographer, software engineer, and founder of PhotoNaturalist. You can usually find him hiking in the beautiful mountains and deserts of southern California.