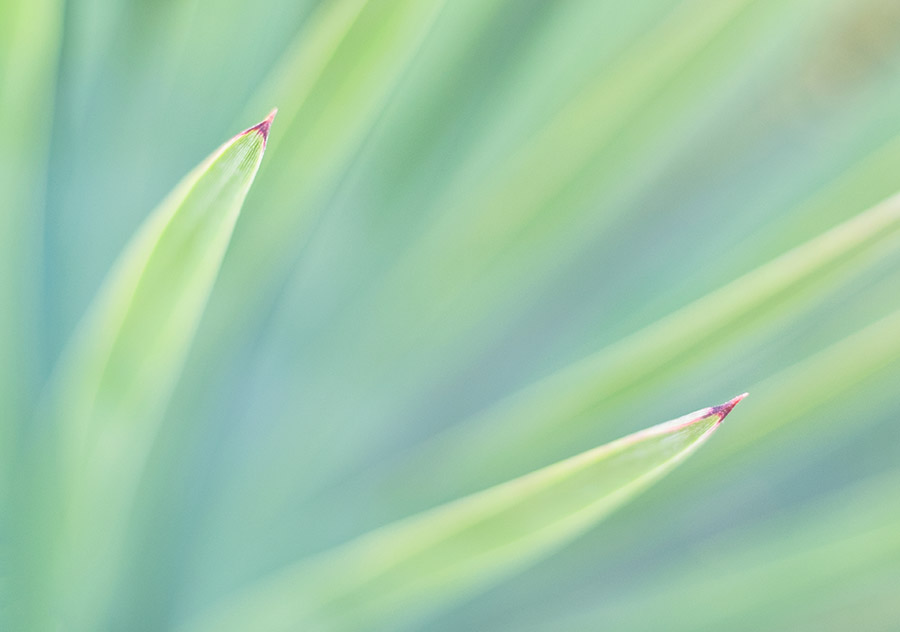 Close-up and macro photography is one of the most popular ways to capture the beauty of nature: whether it's photographing tiny insects to show their amazing detail or just a simple close-up of a plant (like the Yucca leaves above).
When you think of macro photography, you might think you need a special lens, but there's actually a few options for turning any lens into a macro lens, saving you money (and space in your backpack!).
First, it's helpful to understand what makes a macro lens a macro lens. Well, it's super simple: the macro lens is built to focus extremely close to objects. That's it. A macro lens is usually at least 50mm too, but the most important part is that it focuses close.
The good news is that there's two simple ways to make ANY lens focus closer:
Extension tubes
Close-up filters
I've already talked about extension tubes a lot here on PhotoNaturalist, and they're excellent options because they don't affect image quality at all.
Another option is using close-up filters, which are basically like magnifying glasses that you attach to the front of your lens (just like any other filter, such as a polarizer). They come in lots of different strengths, giving you a wide range of focusing distances.
You can also stack multiple close-up filters to make your lens focus even closer.
The downside to these filters is that they do negatively affect image quality (less sharpness, etc), but if you only do macro shots occasionally or you just want to try out macro photography before buying a dedicated lens, then close-up filters are excellent options.
Personally, I used to have a dedicated macro lens, but since I only used it a few times every year, I eventually just sold it and now rely on extension tubes and close-up filters.
Lenses that work best with close-up filters
Close-up filters work best with lenses that are 50mm or longer, because of their narrow field of view. The 50mm lens is a great place to start playing with these filters because they usually already have a pretty close focus distance, so the filters just give them that last little boost they need to become a macro lens. The other benefit of using a 50mm lens is that most camera manufacturers make an inexpensive 50mm lens with a very wide aperture (e.g. f/2 or faster), which is very helpful in macro photography — it gives you a wide range of creativity for depth of field.
Which close-up filters should you buy?
Normally, I'm a fan of buying high quality multi-coated filters, but for close-up filters that you don't use very often, I think it's fine to buy filters that are somewhere in the middle in terms of quality. If you bought a set of high quality close-up filters, you'd end up spending the same amount of money that a dedicated macro lens would cost! So, just go for the cheaper ones.
Here are some brands I recommend:
Polaroid — Get them at B&H
Hoya — Get them at B&H
The filters come in a variety of strengths, indicated by a plus (+) sign and a number. The higher the number, the closer the filter will let you focus. Make sure you get a set with at least a +2 and +4 filter, those are the ones you'll probably use the most with a 50mm lens. The +10 is useful too sometimes. I don't think I've ever used the +1 yet. And, remember you can combine them too.
---

About the Author: Steve Berardi is a nature photographer, software engineer, and founder of PhotoNaturalist. You can usually find him hiking in the beautiful mountains and deserts of southern California.