You've probably said it yourself and you've heard it said many times, "I decided to stay home today because the lighting was so awful."
If you're like many beginning bird photographers, then you check the weather forecast hoping it calls for sunny blue skies. But, then you get depressed when the forecast calls for "mostly cloudy skies" and a chance for rain or snow. You begin to wonder why you have all that expensive camera equipment!
But don't fret too hard about it! Yes, it's true that deep blue skies can be great for photographing birds in flight, but it's actually cloudy skies that create the lighting situations for the most dynamic or dramatic photos, especially those of perched birds.
There are basically two kinds of "mostly cloudy skies" that we have to deal with:
Heavy overcast skies like this: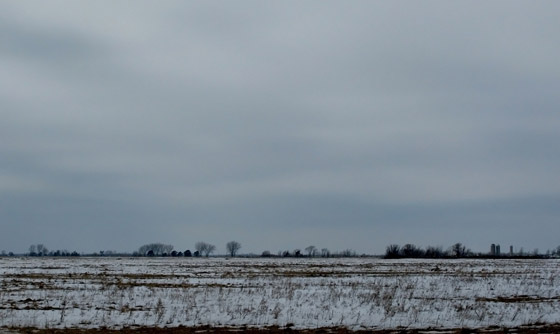 Or bright white clouds like this:
If you just shrugged at the sight of those skies, then read on! Both of these situations present similar problems: low light and tough backgrounds. However, both of these problems can be a benefit if utilized properly.
Tackling low light requires using wide open apertures, slow shutter speeds and/or higher ISOs. Using a tripod can help with slow shutter speeds, but relying on lens stabilization is usually more practical in bird photography. However, on flying subjects lens stabilization has less of an effect so other techniques need to be considered. Also, some lenses hinder the use of lens stabilization while being used on a tripod. Check your manual for these details. It's also important to fully understand proper exposure settings. With low light, it's very easy to underexpose the bird and/or overexpose a bright white sky.
Let's look at a few photos and see how each one was made.
Our first photo is that of a juvenile dark morph Rough-legged Hawk. Being a subject that is somewhat dark, a perfect exposure here is extremely important. Skies were medium dark overcast, but because we're exposing for the bird, skies will appear brighter than they actually are. A key to flight shots with overcast skies is to take pics of low flying birds that offer some kind of distant background to contrast against.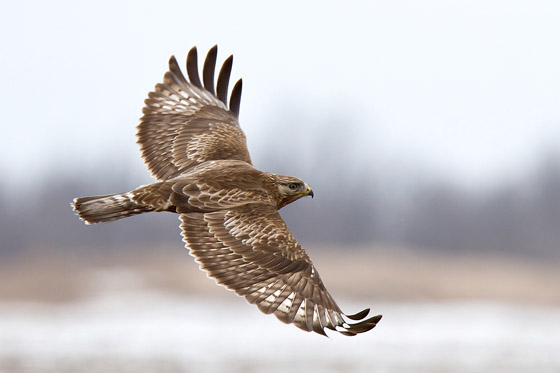 An even better background would be one that shows no sky at all, only foliage that is blurred as in this shot of a juvenile Red-tailed Hawk.
Or this perched adult Red-tailed Hawk.
But, what about a bird with a white head against a bright white sky? Well, if you can maneuver your location to offer a dark subject behind that white head, then your problem goes away, as in the shot below of an adult Bald Eagle. Note too, that bright white skies greatly filter the sunlight and balance (or compress) the range of dark to light tones. Filtered overcast skies also extend your picture taking hours to include most of the day, not just those "magic hours" of sunrise or sunset. This same photo taken under very bright sunlight at midday would create harsh shadows that would be distracting. You probably wouldn't see the darker feather detail either.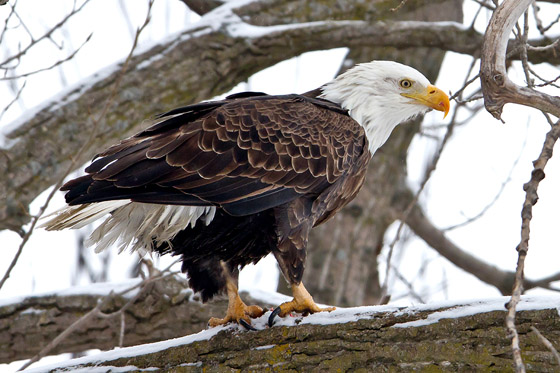 Another example is this Barred Owl photo below, where the filtered sunlight acted as a diffuser and provided balanced lighting across the entire image of the bird. Note also on this photo the settings used. Because I was so close to this bird, depth-of-field was a concern so I increased the aperture to f/8 but had to reduce shutter speed to 1/200 seconds. This might seem impossible to achieve handheld but with good technique and the use of lens stabilization, images like this are attainable.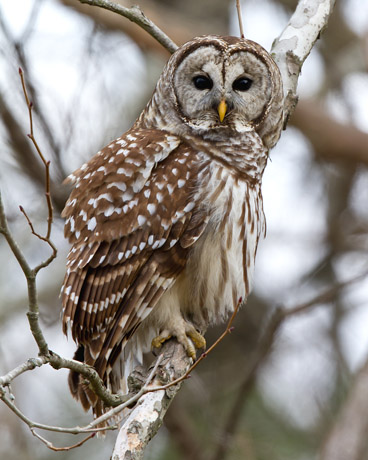 But, even those bright white skies can add to the photo and make the bird look even more beautiful by creating softer tones that might get lost if there was more contrast in the scene. Here's an example of a lightly toned juvenile Red-tailed Hawk against a bright white sky.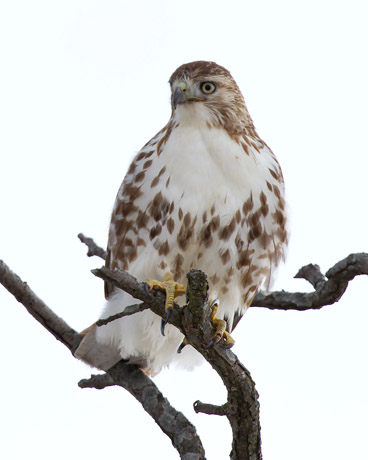 When lighting gets even darker, then the use of lens stabilization for handheld shots and higher ISOs come into play. Perfect exposure here is a must. Being off just a small amount, 1/3 of an f/stop or more underexposed, can play havoc with your image if you're forced to lighten up your image in Photoshop. The introduction of more noise is the result of underexposed images and even if you reduce the noise, then sharpness may suffer. It's always best to slightly overexpose your images taken in darkened lighting conditions and even more so with darker subjects against darker backgrounds such as this adult Red-shouldered Hawk. Here lens stabilization and good exposure saved this photo.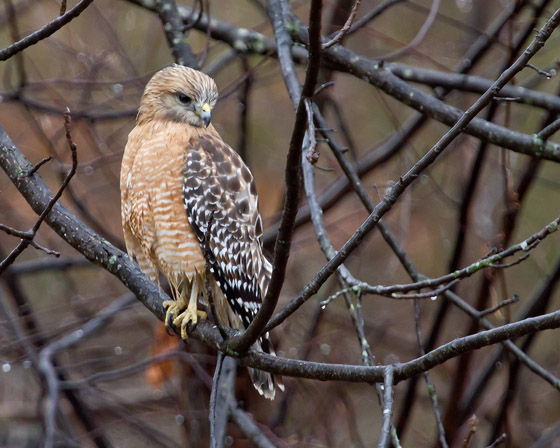 Our last pic here shows an option when lighting is so dim that higher ISOs and slow shutter speeds push your equipment to its limits. Basically, just let go and try some new things. I was fortunate prior to a trip to southern Illinois a few years ago to read an ebook by Arthur Morris and Denise Ippolito titled, A Guide To Pleasing Blurs. Had I not read this ebook I might not have tried the technique so well taught in that book. Here is one of the many shots I took of a flock of Red-winged Blackbirds on a very dark heavy overcast day. Note the background here, late fall grasses glowing!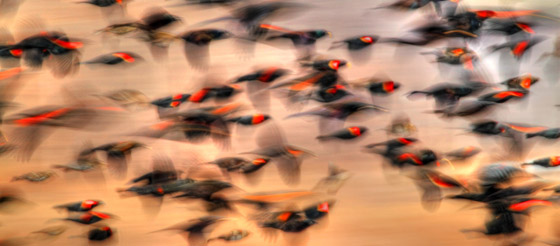 So, the next time you look out the window and skies are dark or you see those super bright white conditions, don't stay home, get out and explore the many possibilities available to you!!!
---

About the Author: Vic Berardi is a raptor lover that lives in the Midwest. He is the founder of the Illinois Beach State Park Hawk Watch and every weekend of the year you'll find him searching for hawks and photographing them. Several of his photographs have been published in a leading raptor journal and in articles he has written. During the year he gives presentations teaching others about hawks and hawk migration. Vic also photographs dragonflies and wild flowers and is always respectful of nature and its creatures.