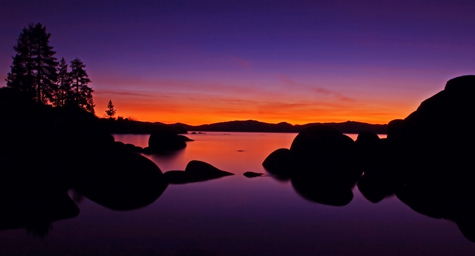 If not handled properly, noise can really degrade the quality of your photographs. Those pesky little dots can become a big distraction in an otherwise great photo.
You can usually avoid noise problems by shooting at a low ISO (400 or lower for most cameras), but noise becomes a problem again when using a long exposure (anything longer than one second).
You may be wondering why you would ever use such a long exposure anyway. Well, here are a couple examples:
To show motion (for waterfalls, streams, etc)
To smooth out the surface of a lake (like in the photo above of Lake Tahoe)
Astrophotography (photographing the stars requires long exposures and a wide aperture)
Okay, so how do you battle the noise you're likely to experience with these long exposures?
Well, most newer digital SLRs have a special noise reduction option for long exposures. This option is usually buried in your camera's endless menus or list of custom functions, so you might have to dig up your camera's manual to learn how to enable this feature.
With this feature enabled, your camera will automatically take a second exposure of equal length to the first but without opening the shutter–this second exposure is known as a "dark frame."
The noise found in this "dark frame" is then subtracted from the original to produce a much less noisy image.
If you enjoyed this article, and would like to read more, please signup for free updates by email or RSS.
---

About the Author: Steve Berardi is a naturalist, photographer, computer scientist, and founder of PhotoNaturalist. You can usually find him hiking in the San Gabriel Mountains or the Mojave Desert, both located in the beautiful state of California.