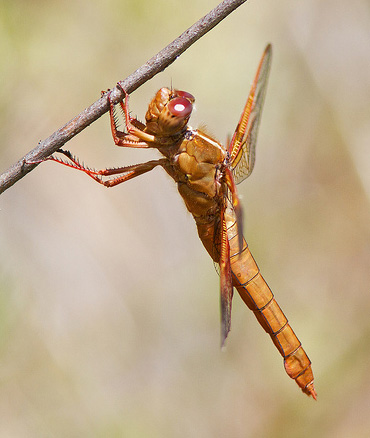 One of the most rewarding parts of nature photography is learning how to identify your subjects. When we place a name on something, it somehow makes us feel more connected to it.
When you first meet someone new, the first thing you tell them is your name.
And, so naturally, when we photograph something we haven't seen before, we immediately want to know what it is.
But, it's not always easy to identify your subjects. Sure, you probably know all the common birds and insects of your area, but what if you're hiking down a trail and see this amazing looking butterfly for the first time?
Well, there's one thing you can do that'll make it A LOT easier to identify that butterfly later:
Take photos from lots of different angles
Sometimes all that separates one species from another is a little dot on their back somewhere. And, these key features that help identify your subject are not always visible in the most artistic pose of your subject.
So, when you stumble upon a new subject, take that artistic shot first, but then get some photos from different angles to help you identify your subject later. You won't always have time to take these "ID photos" (especially if it's a bird), but always make the effort if you can.
For example, when I first saw the dragonfly pictured above, I had no idea what it was. So, after taking that photo, I also took a shot from above: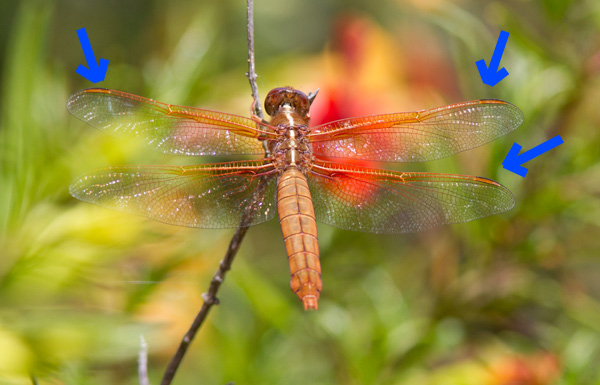 This one isn't very artistic or anything, but it was extremely helpful in identifying the dragonfly because it shows those darker spots on the dragonfly's wings (see blue arrows). Lots of different dragonflies look similar from the side, so the only way to differentiate some of them is by their wings.
By the way, the dragonfly in the photos above is a female Flame Skimmer (Libellula saturata). I always see lots of males in the summer, but this was the first time I saw a female.
If you enjoyed this article, and would like to read more, please signup for free updates by email or RSS.
---

About the Author: Steve Berardi is a naturalist, photographer, computer scientist, and founder of PhotoNaturalist. You can usually find him hiking in the beautiful mountains and deserts of Southern California.