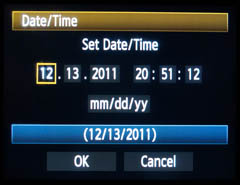 Yesterday (March 8) was the start of Daylight Saving Time (DST) here in the US, so I thought it'd be a good time to remind everyone to update your camera's clock.
It's helpful to keep the clock very accurate (down to the second!), so you can better review your photos later. Sometimes the best way to learn is to constantly review old photos and revisit your thought process of creating those images. So, knowing the exact time the image was shot can help you check other things (like where was the sun at that time?).
Having an accurate clock also helps you stitch two scenes together if you're using multiple cameras to photograph the same scene.
---


About the Author: Steve Berardi is a nature photographer, software engineer, and founder of PhotoNaturalist. You can usually find him hiking in the beautiful mountains and deserts of southern California.