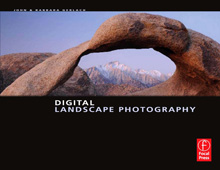 I first discovered John and Barbara Gerlach about a year ago through Nature Photographer Magazine. I remember looking at their photos for the first time and just saying, "wow!" They seem to have mastered every type of nature photography: everything from wildlife to landscapes.
But, they're not just amazing photographers, they're also pretty awesome writers. I always look forward to their clear and useful articles in Nature Photographer Magazine. I've already shared a lot of what I've learned from them here on PhotoNaturalist, like how the Live Preview on your camera can help you take better photos.
So, when I heard about their new book, Digital Landscape Photography, I immediately ordered it on Amazon!
Well, I've had a chance to read it, and look through it again pretty thoroughly, so I thought I'd share my reaction to the book. [Read more…] about Book Review: Digital Landscape Photography by John and Barbara Gerlach