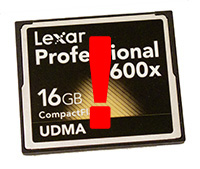 In a previous post, I talked about a few ways to avoid memory card problems. But, even if you follow all those tips, you're bound to get a corrupt memory card someday.
Unfortunately, technology doesn't always work 🙁
So, what do you do when you get home with a memory card full of awesome photos and your computer refuses to read it?
Well, there's a few simple things you can try, like using another memory card reader or another computer. But, after that, your best option is to try using some data recovery software.
As a software developer, I've spent a lot of time recovering data from corrupt hard drives and flash drives, so here are a few lessons I've learned along the way:
#1 – Use recovery software by the card's manufacturer
Most of the larger memory card manufacturers have their own software for recovering photos from their cards (check their websites). And, it's a good idea to use the software of your card's manufacturer, because each card likely has some proprietary nuances that only the manufacturer knows about.
#2 – Close all other programs while using the software
Data recovery is a long and fragile process for your computer, so it's a good idea to close all other programs before you start the process. This frees up memory and processing power.
#3 – Leave your computer alone until the process is finished
While the software is scanning the card and reading the images, DO NOT use your computer for anything else (not even simple things like checking email). If you use your computer during the recovery process, you greatly increase the chances of freezing your computer, and that could potentially damage the card even more and make it impossible to ever read images from the card.
#4 – Expect the process to take a few hours
Even if there's just a few photos on the memory card, the software will probably still scan the whole thing, so the entire process could take a few hours. And, if it looks like the scan froze at some point, give it another half hour or so (many times it will seem like the process froze, but it really didn't..those progress bars don't always tell the truth).
If you enjoyed this article, and would like to read more, please signup for free updates by email or RSS.
---


About the Author: Steve Berardi is a naturalist, photographer, computer scientist, and founder of PhotoNaturalist. You can usually find him hiking in the beautiful mountains and deserts of Southern California.