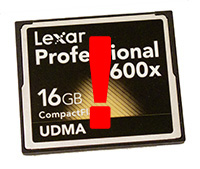 In a previous post, I talked about a few ways to avoid memory card problems. But, even if you follow all those tips, you're bound to get a corrupt memory card someday.
Unfortunately, technology doesn't always work 🙁
So, what do you do when you get home with a memory card full of awesome photos and your computer refuses to read it?
Well, there's a few simple things you can try, like using another memory card reader or another computer. But, after that, your best option is to try using some data recovery software.
As a software developer, I've spent a lot of time recovering data from corrupt hard drives and flash drives, so here are a few lessons I've learned along the way: [Read more…] about What To Do When Your Memory Card Fails